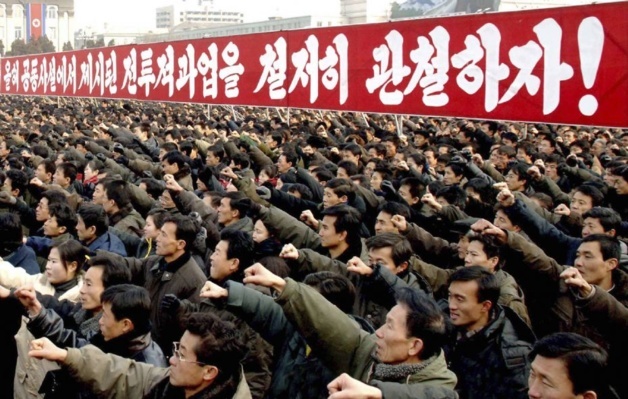 Photo credit : Reuters/KCNA
The next stop is the 'art museum'. At the entrance there is no counter, only a young lady who welcomes us in a traditional costume. Everything has been calculated down to the minute. Even though it is Sunday and the museum is supposed to be a 'relaxing place for North Koreans', today it is empty. According to Miss Ha it is to not disturb the tourists. Inside it smells humid and there is no light. Kim Il Sung is on every single painting. Wherever I look he is surrounding me. Maybe he is observing me. On each painting, he is smiling at the Korean people, full of gratitude and admiration. He is a self-sacrificing man, braving the cold and the snow to support his troops. A portrait is showing both of his children sitting on the door steps on a winter evening crying over their father's departure. I look for the date of this painting and read 'Juche 95'. Miss Ha explains to me that North Korea is following the 'Juche' calendar and the year 0 is the year of birth of the great liberator Kim Il Sung born on the 15th April 1912. At least it is much more convenient to say 103 than 2014.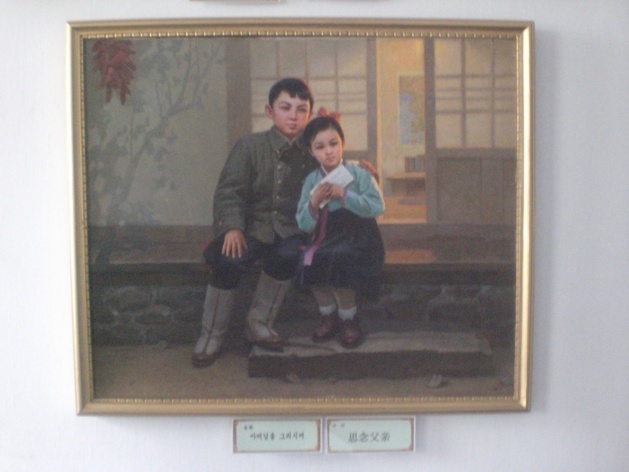 Photo credit : Justine Jankowski
I am observing her perfect suit, decorated with a Kim Il Sung badge. Her skin looks smooth and her almond-shaped eyes look bigger with her fancy eye contacts. She ruined her eyes at University. What has she been told to say or not to say ? Did she just repeat a speech ? Or maybe this one has just been settled in her mind since her childhood and comes through without striking a wrong chord ? After all, isn't Kim Il Sung the eternal benefactor, saving thousands of lives as is shown in the pictures, media and books ? At the gift shop everything is in Yuan currency and costs about ten Yuan (1, 2 euros). A Yuan is approximately twenty four won, the national currency. We are not allowed to bring back any Korean banknotes. I haven't seen any banknotes or banks. Our guides are speaking with their colleagues who are taking care of a bus of Chinese tourists. They are joking around and speaking about love. Here in North Korea divorce is not allowed. It is better not to make a mistake when it comes to choose a husband !
Before leaving the museum, I go to meet Mister Hak on the shore. The guide is older than him. He is one of these rare people who can cross the border. Because of his job he sometimes has to spend a day in Dandong. He observes China across the river and says 'Ten years ago all these buildings were not there'. I ask him what these changes are inspiring him to think about. He answers that China has experienced a quick economic growth. I ask him, 'do you wish the same for Korea ?' His answer is a single 'yes'.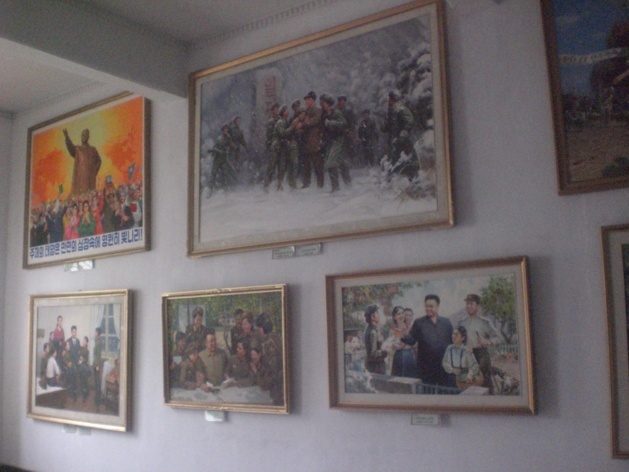 Photo credit : Justine Jankowski
Outside some teenagers are playing volleyball. Even though it is Sunday they are wearing their black uniform as 'it is more comfortable'. They keep a watch on us while grasping the dusty ball in their hands. Some of them are waving at us. It is their first time seeing foreigners. We can hear a robotic voice coming out of loudspeakers. The voice is dictating traffic rules and I wonder, 'what traffic is it talking about ?' At the end, it also broadcasts the regime ideas, just in case we might have forgotten.
'We will follow the Marshall Kim Jung Un'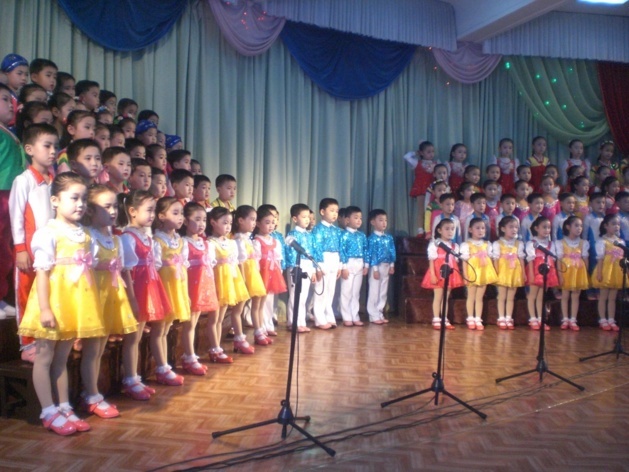 Photo credit : Justine Jankowski
The kindergarten is not only the last but hardest stop of the day. A hundred of kids prepared a show for us. They are between four and six, knock-need and heads full of hope. Their nights are filled with dreams of meeting the general. As for Miss Ha, it is the dream of the whole nation. While girls have ponytails, both boys and girls wear lipstick. They are all in the same boat. We are given the singing program: 'We will follow the Marshall Kim Jung Un', 'We are young generals', and 'Preschool education is excellent'. Without hitting a false note, the children sing at the top of their lungs. I still have the echo of the lyrics in my head as I could recognize the name 'Kim Jung Un' at the end of each verse in every song. Then, one after the other, the children execute stunning performances. Between their little hands, we can see traditional instruments, hula hoops and juggling balls passing before our eyes. During a scene representing Koreans fighting against the American imperialists they are holding fake guns between their fingers. These chubby-cheeked, one meter tall baby soldiers already walk in unison with their hands on their foreheads. They have assimilated the gesture. In fifteen years they might parade through Kim Il Sung square, in Pyongyang, on a 15th of April. My iron chair is cutting my back, I feel it is time to get out of here.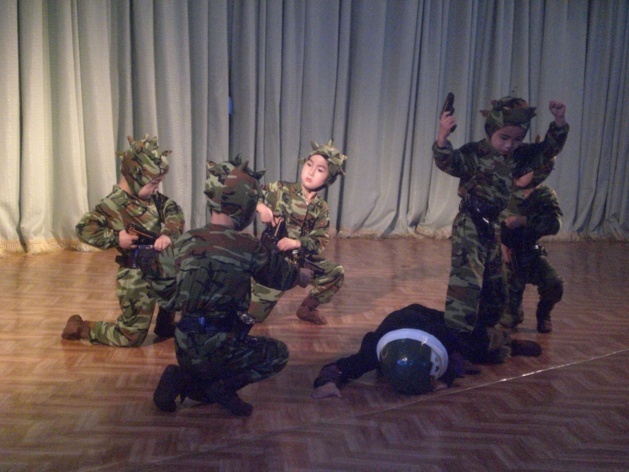 Photo credit : Justine Jankowski
I eventually realize why Miss Ha didn't need to be briefed ; why she is only telling the truth, her truth, the one she has been hammered with since she was four. Why she has a logical answer that seems absurd to us for every question we ask her. She probably doesn't know anything about the nuclear attempts by North Korea but everything about the American provocations and the war that divided her country because of imperialist invasion. The truth is in Juche and we, white people, are probably a bit crazy. After all we believe in god.
Before saying goodbye to Miss Ha, we risk it all
and bombard her with questions. She says that yes, she heard about the internet. She would like to be able to access it since it would be easier for her to improve her English. Then she says that no, we cannot bring our phones into North Korea and the only reason why we can't is because they simply don't work in North Korean territory. After all, isn't North Korea the best country in the world ? Here, North Koreans are lucky to have free access to education, not like in other countries where children are illiterate. The army is very powerful, more than the American one. In case of a war declaration, the North Korean army would obviously get the upper hand. Health care is free, thanks to the party's generosity. She raises her eyebrows when I tell her that I don't need to pay for my medical consultations either. She adds that no, she doesn't think anything about the buildings flourishing each year on the other side of the shore. She insists that she really doesn't think anything special about it at all. One day they will have the same. It is just harder to build them here since the foundations of the city have been built by the Japanese during the occupation. It has been botched. 'See you soon' says Miss Ha. The bus leaves, shaking about in the direction of the bridge. It is the first time I think, relieved, that I am going back to a country of liberties.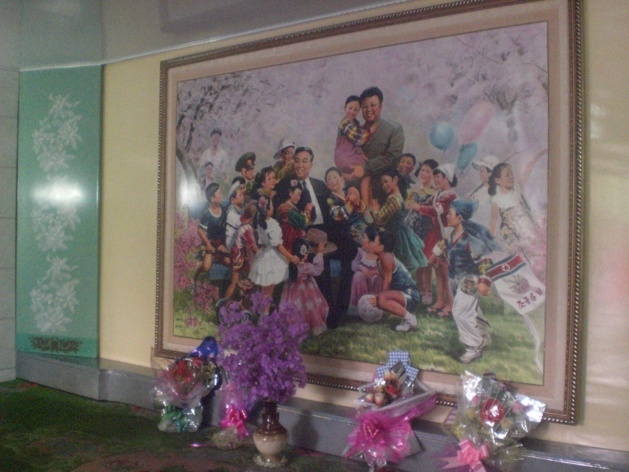 Photo credit : Justine Jankowski
At Dandong, the rain has stopped. I buy a small piece of bread in the street. The sidewalks are full of Chinese people eating, drinking, and wearing fake Converses and fashionable haircuts. They look at us as well, amused. I look back at North Korea, just across the lapping water but so far away from its big cousin, China. I feel free.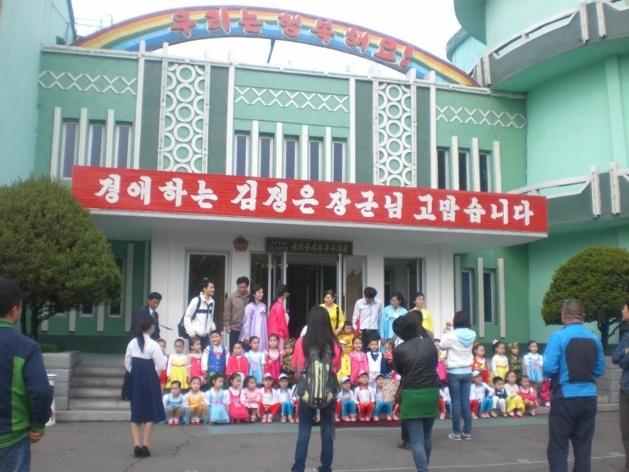 Photo credit : Justine Jankowski