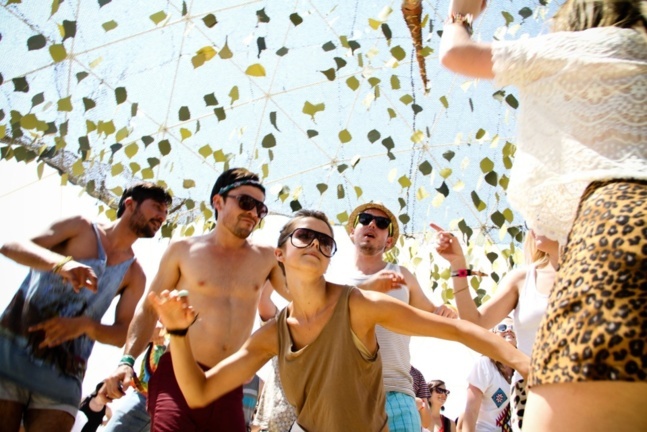 Coachella Valley Music and Arts Festival takes place in Indio, California. Right in the middle of the American desert, seven stages have been set up between palm trees to welcome 120,000 spectators. The festival is held over two weekends, so that much more people can attend the event.
Let's talk about the line-up. Every year it's extraordinary, because the most famous bands take part in Coachella festival. This year: Phoenix, Blur, The Stone Roses, Red Hot Chili Peppers, Franz Ferdinand or even New Order. In 2012: Arctic Monkeys, Radiohead, Snoop Dog, Justice. More than 150 artists give live concerts each weekend. Coachella is a real recognition for all of the artists. There are all types of music, to please everyone: rock, hip-hop, electro or folk.
When it was launched in 1999, the majority of the bands that gave live concerts were indie rock bands (bands that weren't produced by record companies). Rage Against The Machine and Beck were headlining the festival's first edition, not that bad… Now, the line-up is still remarkable but tends to be more "mainstream", trendier. The biggest hip-hop, electro or even RnB artists joined Coachella. Even the French DJ David Guetta or the American singer Beyonce, who are far away from the indie and underground culture, had their hour of glory in the greatest festival of the east coast. All in all, it may be the key to success: an eclectic line-up which allows people to discover a lot of new music.
When you say Coachella, it also means surprises. This year, R.Kelly (yes R.Kelly) took part of the French band Phoenix's show. They have obviously nothing in common but the result of the mash-up between the old "Ignition" and "1901" is surprising. When Daft Punk, the French electro music band, is about to release a new album, they choose Coachella to reveal their new single Get Lucky (actually just a part of). Last year, 2Pac created a buzz. Yes, 2Pac died in 1996. But nothing is impossible at Coachella. Tupac rose from the dead and reappeared on stage in a hologram form. The dead rapper looked very much alive and performed two songs with his friends Snoop Dog and Dr Dre.
Coachella attracts millions of viewers all around the world thanks to its
Youtube
channel. But it is also the place where you must be seen. Famous or not, the hobo attitude is required. The festival became a real fashion show: cut off studded shorts, feathers, Indian fringes and other flower crown headbands are essential.
"It's like a modern Woodstock"
Cinzia
, our correspondent in Coachella reports:
"The atmosphere is electric today at Coachella. We are all so excited to see Blur, the Yeah Yeah Yeahs and The Stone Roses later as we are rock and roll lovers. The organisation is amazing (…) even if it's like there are mini rave parties going on everywhere, especially by the tents! Lots of security people everywhere. It's a good thing we brought our bikes. It helps going from stage to stage and meet people faster."
If you don't have a bike, then let's just walk around the huge artworks in the Coachella field soberly. Yes, it's forbidden to drink alcohol anywhere. You have to go to Beer garden… Quite different from European festivals.
Coachella is more than a simple music festival, it's a real experience. You will have to pay the tidy sum of $400 (plane ticket not included of course), but who can refuse a trip to Coachella? No one, it's worth trying.
So, is Coachella the new Woodstock?