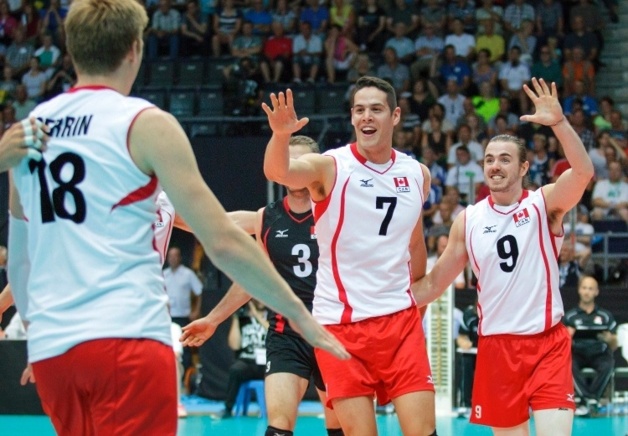 Crédits photo -- Lehtikuva/AFP
Canada's volleyball team lost to current world volleyball leader, Brazil. Which ingredient was missing, in your opinion ?
I think with the late setter injury, our team wasn't able to adjust as quickly as we needed too.
Three sets to zero, that was a rough defeat, wasn't it ?
It was very disappointing obviously. I understand that our winning streak had to end, but losing because we played poorly opposed to playing great and simply being outplayed is really hard to accept.
The Russian team confirms its current leadership with this victory against Brazil, then ?
Yes, it seems their physical abilities trump brazils amazing technique for the time being.
Russia beat Brazil with an impressive 3-0 (25-23, 25-19, 25-19) in the 2013 FIVB Volleyball World League final on Sunday.
This elimination happens right after the most important victory in the history of Canadian volleyball! Too fast a pace ?
Playing back to back after a five set match is difficult, as was shown by Russia during our match. Fatigue did play a role. Again we had some key injures but it is no excuse, we know if we want to be a top program, we are going to need a crop of strong players to bring in and out of our line up.
How did you guys train for this game, especially in light of your prior historic victories ?
We didn't do anything different than normal. I am sure if we had changed our preparation we would have changed the way we play and would have been sunk from the first ball. We make small changes for different opponents but we tend to focus on making ourselves strong more than what they're doing.
Did the streak of winnings, the euphoria from recent victories, somehow demoralize you ?
Very much so! Losing always "sucks", but when you lose and you know you didn't show your A+ game, those are difficult to swallow.
Despite the last year's setback during last year's world championship you've made substantial progress; this year you made it back to 5th place. Learning from past experience ?
Yes our program is always growing. We take pride in learning from our mistakes. As long we get better then the losses are not in vain.
Dallas Soonias, what is your next goal given your selection ?
In terms of the national team, as long as I find a way to help the team more than hurt it, I am happy. I will probably stick around another quad.
Professionally, you are entering your 4th season in Spain with Unicaja Almeria Club. Do you find European clubs better in comparison ?
I am actually going into my 8th season playing Pro. The mind set when you play Pro and for your national team are totally different. It is difficult to compare the two.
At 29 years old, you have reached nearly 80 selections on the Canadian national team since 2004. What does this all mean to you ?
Is it only 80? It feels like it should be more. I am glad I got to help out and see so many players and friends go through the system. It is been great seeing us start to get more W's than L's.
In Canada, Volleyball is still far from being a major sport, with stiff competition from hockey and basketball, for example! How do you explain that ?
It is too bad really. What the sport needs is a brilliant North American Millionaire who wants to make a business out of it. That is how those other sports got to where they are.
By the way, why is this sport so thinly advertised ?
That I have no real scientific answer. I would guess because our national program is funded by our government and not privately. So it is ran like a government department and not a business that is looking for constant growth.
Ending your sports career in Canada, is that still on your mind or in your plans ?
Hopefully I have a few more years of playing before I have to hang up my shoes, who knows, maybe I will come live in Sete (France) again for a few years when I am done.
Thanks to their very good course, Canada's men's national volleyball team has climbed from 18th to 11th in the FIVB world rankings. The main goal for the 2013-2016 quadrennial is to select athletes to qualify Team Canada into the 2014 World Championship, the 2016 Rio Olympics, the 2020 Olympics, as well as success at the 2015 Pan Am Games in Toronto. The next event for the canadian team is European Tour from August the 24th to September the 8th of 2013.
A mari usque ad mare !