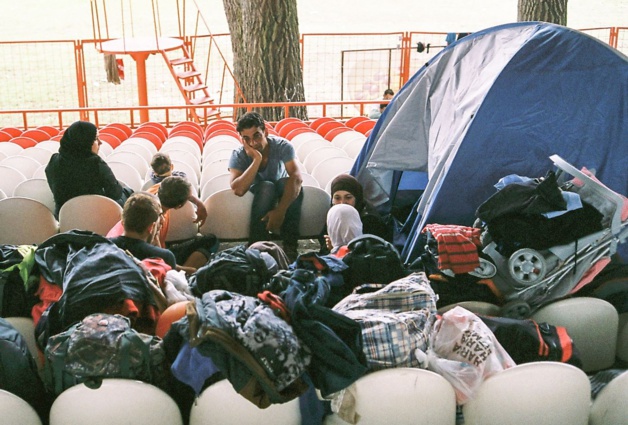 Credits to G.M.
More than 2,000 Syrians fleeing war in the South, and death in the Mediterranean are waiting to be able to reach the European coast. Back in 2012, Greece and Bulgaria had already started reinforcing their border systems with Turkey. Today, they are faced with a wall stood before them.

To meet them, you have to go to an old wrestling arena outside this city of 100,000 inhabitants. A strategic place where their camp is set up on a small lot of ground surrounded by water and a bridge, the only way in and out. This is where the police, the number of which was restricted until 2013, is parking its blue and grey vehicles. It seems like the presence of police was reinforced after the first wave of refugees: there were then more than 1,000 policemen in the area, and tension continues to rise. Two young women - one German and one French - were arrested in the city 3 days earlier accused of encouraging refugees to cross the borders and even of spying.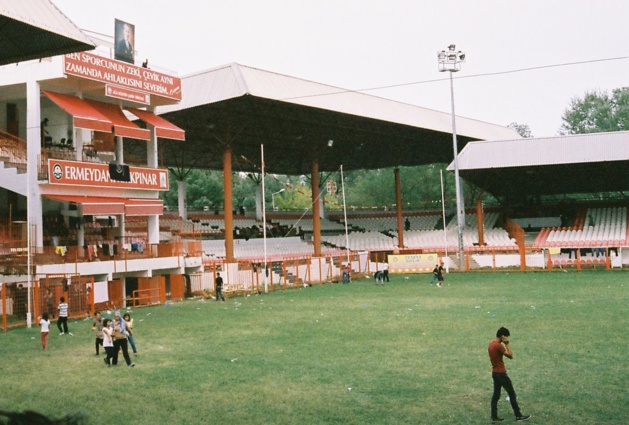 Credits to G.M.
Having travelled through Lebanon or crossed the border between Turkey and Syria, the population is generally young. They're all connected to social networks that allow them to be made aware of the dangers of the sea route through a large warning campaign. Mahmoud from Afrin, next to Alep, wants to go to Germany, Sweden, or maybe to the Netherlands depending on the promises made by European leaders. He wears the kind of T-shirt sold to tourists with the word "Istanbul" printed on the front of it, which shows his whole journey towards the north. Helpless, just as the others, he witnesses the events that are affecting the Balkans.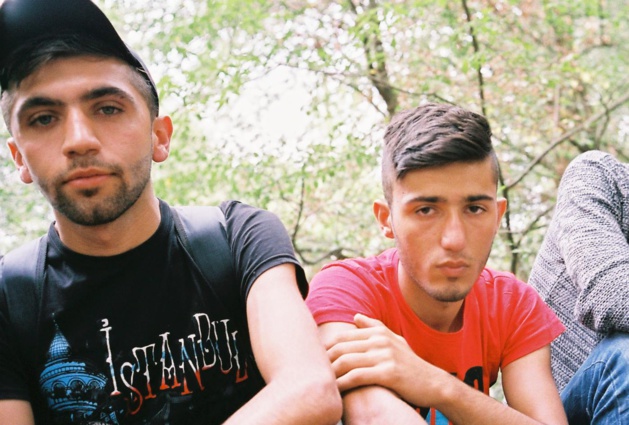 Mahmoud and one of his travel companions – Credits to G.M.
They are clearly aware that countries such as Hungary and Slovenia don't want to let them across. "We just want to get across, whatever the cost", they say. It is not only a matter of survival: there are a lot of young medical, engineering, and language students who want to finish their studies where they still can. But it's no place for them to pursue their ambitions.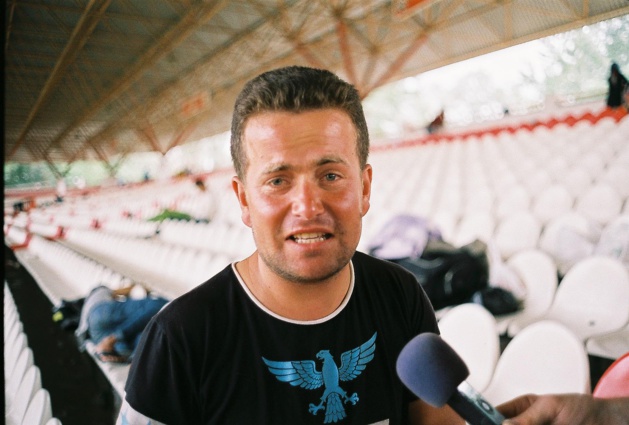 Credits to G.M.
Turkey let in a great number of refugees, but is making sure that no one believes that they will be able to actually settle down there. On Tuesday 28th September, after the Prime minister accepted to meet a delegation of refugees, it is the turn of the local governor, Mr. Dursun Ali Sahin to speak to refugees in Edirne. According to his speech, Jordan and Turkey are the only countries to accept those fleeing the Syrian conflict. He is urging them to leave the city and to go "home". The migrants' reaction was straightforward: "all we want to do is to walk". But, in any case, not towards the South.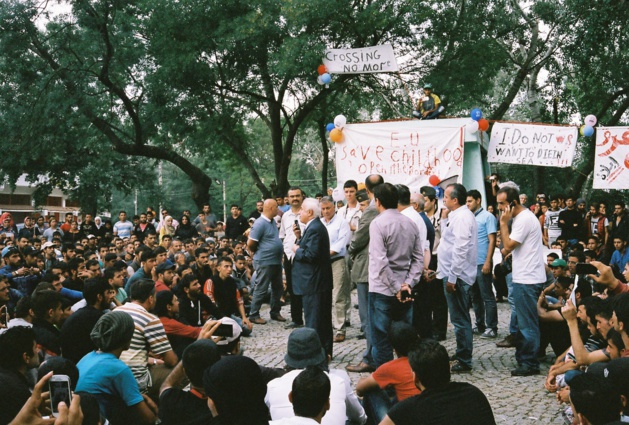 On the banners, calls to open the borders are written in English, German and French. Below, the governor is rising up. Credits to G.M.
Why do they desperately want them to leave? The staff of the immigration centre 100 metres away gave the answer: "Turkey can't get away with creating of a sort of buffer zone between both sealed off borders, where a great number of refugees would get stuck." They also referred to moral reasons. In Trakya, a region astride these three countries, presents a continental climate and faces much harsher temperatures come winter. Refugees won't last until spring and yet no solution has been found, a part from providing buses, the destination of which are often unknown. Back to Izmir or Istanbul, no one really knows. After such a long journey, where every single city is a hurdle, refugees – swindled and sometimes ousted – often have no other choice but to return down south.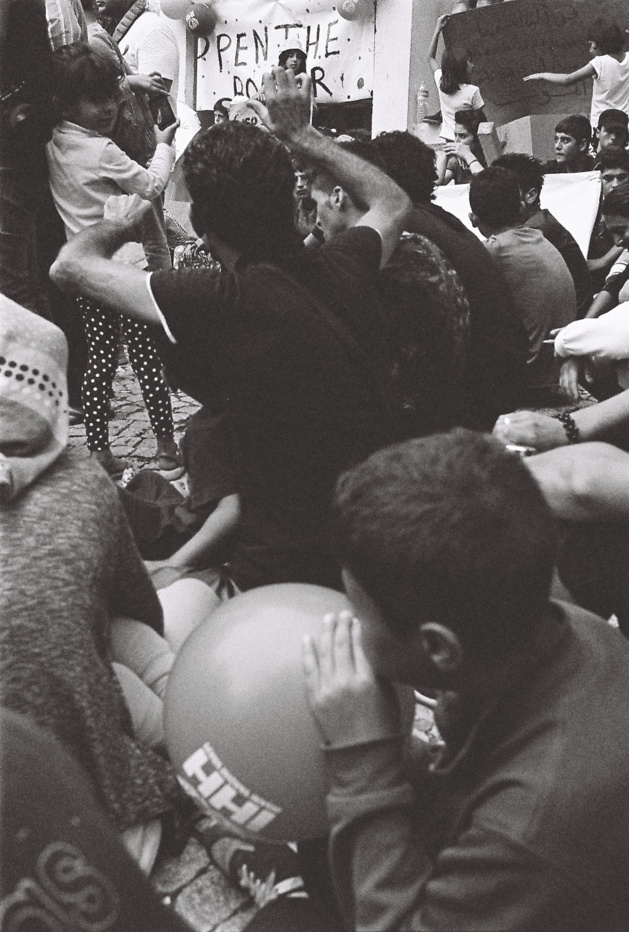 Credits to T.G.
There, children are playing with IHH inflatable balls. The Humanitarian Relief Foundation is a Turkish humanitarian organisation, which is an international reference but also known for its more or less hidden relationship with Islamists. In 2012 and 2014, suspicions arose of them delivering weapons to Syria with the help of members of the Muslim Brotherhood. Close to the AKP, the party of the president Erdogan – who is another discreet member of the brotherhood –, it is the only organisation that was permanently dispatched on site.

Why has the concern about refugees trying to reach Europe been passed on so late in and time and on this scale? These waves of migrants started as soon as the conflict broke out back in 2011. A possible answer can be found here in Edirne. Even though it is said that only little money is needed to survive the journey, crossing the Syrian border still costs more than $100. Connected on their smartphones, they keep themselves informed about the random announcements of border closures. Some photographers in the field since the beginning of the population movements noticed that the first migrants seemed much more destitute, "Every time we approached someone in the Jordanian camps, most of the time, this person would be a farmer." Note that they had no access to Internet. The first trips were inside Syria or concerned poor and marginal groups not able to mobilise European consciences.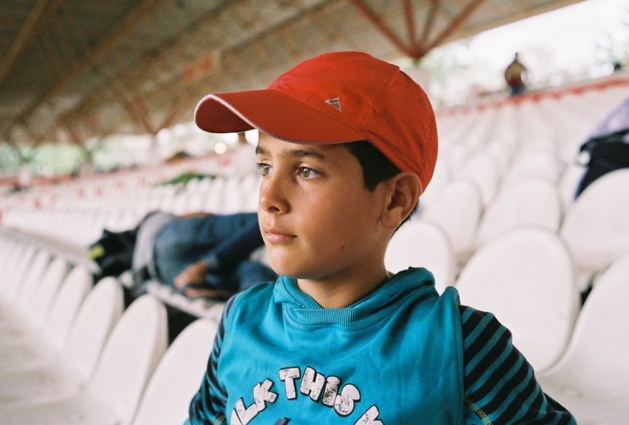 Credits to G.M.
Despite the screams every time a barbwire is passed, the actual results vary a great amount. Setting up quotas in some countries may be a sign of progress, but the lack of registration locations and corridors to Europe still remains to be a cruelly important matter.