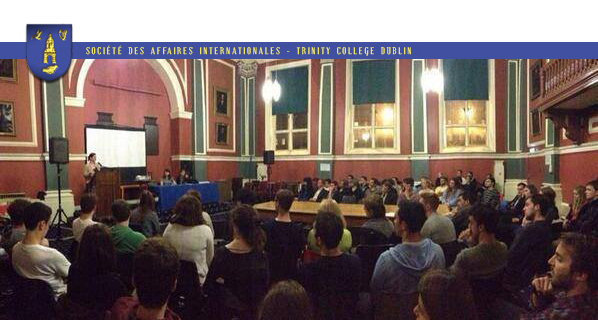 Mr Gérard Cairet, Consul adjoint in the French embassy in Dublin and Ms Marianne Ziss, First Secretary accepted to answer our questions and present their experience of diplomacy.


Le Journal International: Mr Cairet, Ms Ziss, thank you first of all for receiving us this week. In a few words, could you explain us what your position entails on a daily basis in the embassy?

Gérard Cairet: I have a double function in the embassy as I am responsible for the consular chancellery and am also in charge of the daily management of the embassy. The consular chancellery deals with all matters related to the administration of French expatriates. This service is also in charge of visas delivered to foreigners living in Ireland and who want to go to France. On the other hand, the management of the embassy entails the administrative and financial management of the embassy be it in terms of human resources or budget management.

Marianne Ziss: As First Secretary I work in the diplomatic chancellery. My main duty is to monitor and analyse Irish domestic politics as well as European affairs. On a daily basis this means writing reports on the political situation in Ireland and on Irish positions relating to European policy. I also organise top-level meetings when Irish personalities go to France or when French personalities come to Ireland. Gérard and I also ensure a representation function. We represent the Ambassador in all official meetings whether it is in Dublin or elsewhere in the country.


JI : Mr Cairet, you previously worked as a diplomat in Denmark while Ms Ziss you were based in Beijing. Are there any differences in the way the Danes, the Chinese or the Irish negotiate? Can you recall an important moment of your career which would illustrate these differences?

GC: As a Scandinavian country, Denmark is a very rigorous country – a fact which might is not the case in Ireland. This is the main difference. As a result however it is very difficult to meet the Danes, to share moments with them whereas in Ireland meetings are more spontaneous and normal. For a diplomat, the first barrier is a language barrier. In English, even if you are not fluent, conversations are easier. I never felt as much as a foreigner as when I walked for the first time in a street in Denmark. I had lived in Italy and Spain and even with my (sometimes limited) command of English or Italian I was able to arrange myself. In Denmark however, as it sounds rather guttural, I had the feeling people were yelling at each other in the street. And for the first time I felt as a complete stranger in the country I was.

MZ: In China, as in France, hierarchy is respected. Organisations are very formal and meeting someone can only be done through official demands either by letters or emails. In Ireland things are less formal and you are easily given responsibilities. Simplicity is a trait of the Irish. To give you an example, the first time I had to organise an official dinner in China, I respected the French rules of savoir-vivre. This means that I had the two main personalities sitting across each other at the centre of the table with hierarchically less important people seating around the table in a descending order of importance.

This is not at all how things should be done in China where the two main personalities have to be sitting next to each other on one side of the table while their colleagues sit in a descending order of importance around the table on both sides until the less important person sits in front of the main personality. It also happens that the main personality was sitting with her back to the door, which is something which should never be done in China. Thankfully, the Chinese are very understanding toward foreigners and someone quickly explained me my mistake so I could rearrange the table!


JI : What is, according to you, the role of a diplomat today?

MZ : A diplomat is a person who creates links between two countries. We often hear in France that we know Ireland. This is untrue, both countries know very little about each other. The role of a diplomat is therefore to create links between personalities from different environments so that they can communicate and work together. I don't think this role changes a lot with the use of new media because it is a very human job which consists in creating and developing a network of contacts. To sum up, the diplomat of the future is the same as the diplomat of the past. He or she will spend time to try to create links between the two countries. The size of the country does not change the job, the role is the same.

GC : In the consular domain, numerous French people come to set up with the idea that France and Ireland are very similar countries. However, they are two countries with very different cultures and we frequently have to explain the French living here that Irish legislation is different and that they don't have the same rights in Ireland and in France. The role of a diplomat is therefore to understand the country in which he or she lives in in order to explain it to its compatriots when they arrive in the country.

JI : You mention the importance of forging links between countries. What is your sentiment concerning European diplomacy? Would you consider European diplomatic services as united? Are there working links between diplomats from various member states?

GC : In the consular domain, there is a strong cooperation. We meet and communicate very frequently. When a problem arises, we contact other European diplomats to share our experiences and our understanding of the issue. The advantage is that it gives us time to think in depth about some matters. For instance I am just out of a meeting to which a European Commission member and other European diplomats participated. We discussed the new procedures relating to visas harmonisation in Europe. This is a work which started a little more than a year ago and that we just finished. It illustrates the daily cooperation which exists between various embassies.

MZ : From outside, Europe exists. When I was in China, European politics was strongly monitored. When we work outside the EU, European policy is coordinated through regular meetings between diplomats from various European embassies. And this cooperation is efficient. When you work inside the EU, asking whether there is unity between European diplomacies relates to a simple question: "Are European affairs just International affairs in the larger sense?" And very often European affairs discussed between member states will be solved in national law. They are therefore national affairs. But European coordination and cooperation concerning external affairs of the EU – especially in a Union with 28 members – seems particularly well shaped to me.

Le Journal International would like to thank Mr Cairet, Ms Ziss as well as Ms Geraghty and Ms Vickery of the embassy for their answers as well as all the members of SoFIA for organising this event.