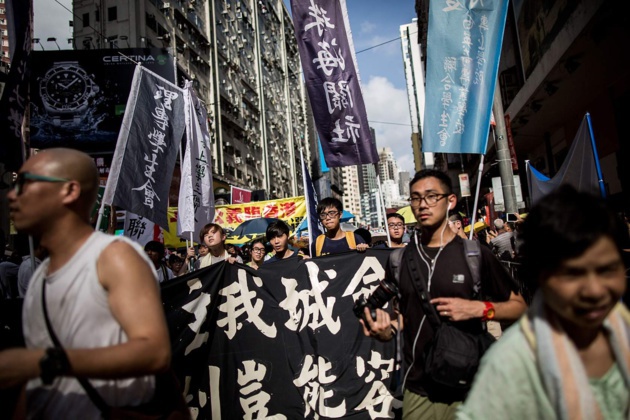 Credits : Anthony Kwan
The 1st July march took place in Hong Kong, like every year since the retrocession of the former British trading post to China in 1997. This pacific event aims at promoting democracy and human rights.
This year, organisers counted 48.000 participants at the march, whereas the authorities give a number ten times lower. The march also benefited from an important police mentoring, which is a relatively exceptional measure for this annual event.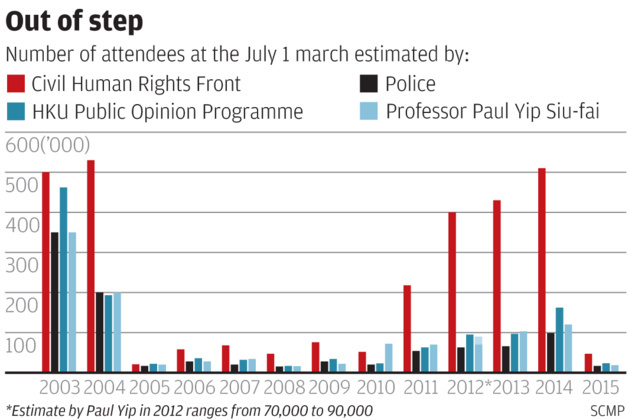 Credits : SCMP
Ten months of heated debates
It can come as a surprise as it is a demonstration which aims at protesting, but it is one with great respect of public order. However, movements which have been affecting the city for the last ten months set up a new deal for demands in Hong Kong.
The umbrella revolution saw thousands of demonstrators occupy the streets of the city centre from September to October 2014. Their main demand concerned the abandoning of a project of reform supported by China, which intended to change the mode of appointment of the chief of Hong Kong executive. He or she would thus be elected by universal suffrage, but only candidates approved by Beijing would be allowed to run for office. Demonstrations where the pro-democratic movement started to fight against a reform which aimed at making the system more democratic were thus witnessed, whilst loyalists were working in favour of its adoption.
This popular uprising did not limit itself to a struggle against the reform, since activists from all sides joined it to make their demands heard, a phenomenon which benefitted from a global impact. After two months, the last demonstrators were dispersed, while the debates concerning the democratic reform project continued at the Legislative Council of Hong Kong.
The pro-democratic movements, out of breath and divided
The vote on 18th June rejected the reform, to the delight of the demonstrators who had taken their banners out again in the days preceding the deliberation. They were rapidly dispersed by the police, for fear that the euphoria would lead to an even larger movement, as was the case in 2014.
Therefore, it seems that the march of 1st July arrived at a difficult time and that many inhabitants who went into action two weeks before did not deign to stand the heat to ask for democracy and human rights. The umbrella revolution added to the general weariness, and voices raised to denounce those repeated movements and demanding a greater harmony.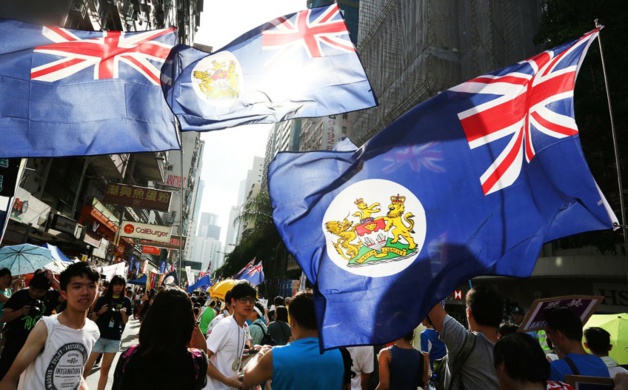 Credits : Felix Wong
What is more, the march was the victim of tensions which led to a sullying of the image of this event. On the route, loyalists from Beijing were positioned, that had organised counter-demonstrations. Joshua Wong, student leader, was attacked outside of a restaurant, probably a consequence of his pro-democracy involvement.
Finally, some localist movements who ask for more autonomy for Hong Kong participated in the march, whilst its organisers refuse to join forces with them, because they consider them as too radical.