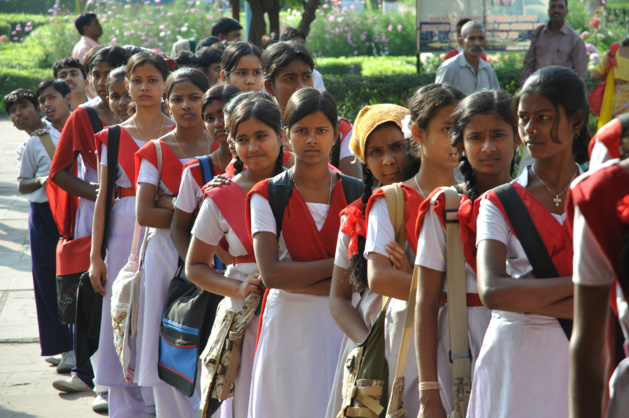 Crédits photo -- Biswarup Ganguly
The issue of dress code has been been quite a prominent one for sometime. The engineering colleges in the state have for long issued directions regarding dress codes. Students are expected to be clad in a formal attire. Failing to do so would lead to punishments like paying fines and eviction from lectures. However, such rules are prevalent mostly only in Tamil Nadu, one of the states with most number of higher education institutes.
The "Professional" Attitude
All the colleges echo with the same justification of "professionalism" for insisting on a dress code. Though the universities, to which the colleges are affiliated, do not prescribe a stringent dress code, many colleges do so on the grounds of instilling discipline into the students. The authorities claim that the varsity has "no role in determining the dress code for affiliated colleges". However, the colleges cite University rules and regulations for enforcing such a rule. Recently a guest lecturer was not allowed to enter the college campus, merely for the fact that he was wearing Jeans. According to the engineering college which denied his entry, he was turned back for his "unprofessional attire".

"Enforcing strict dress code makes college look like a continuation of school", says Pranav Kiran, a final year student at Rajalakshmi Engineering College near Chennai. He feels that the emphasis of professionalism is wrongly done on the basis of appearance. However, the chairperson of this college, Dr. Thangam Meganathan has a different view, she says, "By making students adhere to the dress code as this will be helpful while taking up jobs in IT sector." This being the case here, students of the Parent University to which these colleges belong to have no dress code to be followed. " We practically have no dress code and are free to wear anything we please", says Srinithi, a first year student at Anna University, which apart from recognizing colleges under its aegis, prescribes the syllabus and other rules to them.
A few more rules to follow
Apart from dress codes, students in the campus are required to follow many other rules. Wearing ID cards all the time, having a neat hair cut. Some colleges also restrict interaction between male and female students. They even impose fines for students who violate it. In an age where Indian women establish their presence in offices on par with their male counterparts, such rules are sure to be counter-productive.

Many students feel such isolation from their female counterparts would result in lesser interaction and lack of confidence when it comes down to work environment. They are also not too comfortable with being bossed around. "Our freedom to express is being taken away by such rules. We are adults and we don't like to be told what to wear", says Swathi Renugopal, a student of Ethiraj College for women in Chennai, while commenting on the recent meeting at Madras University regarding dress codes. The Chancellor of Sathyabama University claimed colleges to be "like a temple or church". According to him discipline must be maintained. Hence, it is important to be dressed decently.
Trend spreads to other colleges
The trend of having a dress code for students which was started by engineering colleges, has spread to other arts and science colleges which were previously liberal in dress codes. Recently, a meeting was convened by the Director of Collegiate education to discuss the framing of a charter for dress codes in college campus. The authorities have decided to send a circular within a few days. If a strict code is brought about, male students would be barred from T-shirts while female students are to avoid jeans as well. Students of arts and science are totally against this proposal, as they find it unnecessary. They even feel such a move by the colleges would serve as an impediment to the creative expression of students.
"If faculty can why not students?"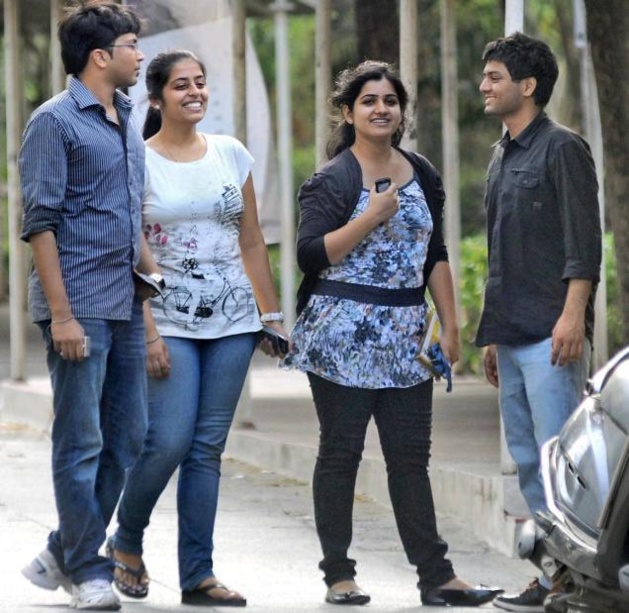 Crédits photo -- Vedhan M/The Hindu
There already exists a firm dress code for the staff in colleges. Male staff are required to be in a professional outfit while their female counterparts are required to wear saris or salwars. Justifications by college authorities fly in with a question, "If faculty can follow dress codes why not students?" However there are counter arguments from students regarding such statements. "We never ask the faculty to follow a dress code, it is not right to impose it on us just because staff do it", says Malvika, a student.
Stricter environment
The colleges, especially professional ones, maintain a very strict atmosphere within the campus. In order to ensure students follow such strict regulations, colleges have a dedicated department to monitor such cases. These members of the staff survey the campus and catch hold of defaulters. Often they are sent to their respective heads of department to provide an explanation for not being in the prescribed dress code.

Apart from this, male-female interaction is monitored. A few colleges in Chennai, Tamil Nadu prohibit interaction between both the genders within college campus. Doing so would attract either a penalty starting from a few hundred rupees ( nearly 2 euros) or a warning from staff. The sad part is that most of the parents prefer their wards to study in a stricter environment as they believe it would give less space for distractions. In India, where students are dependent upon their parents longer than their counterparts in the west, they do not have much choice but to abide by their parents' wishes. Colleges look at this as an opportunity to attract students and flaunt their strictness through advertisements.
A sorry state of affairs
The list for rules and regulations is endless. Engineering college students are the worst affected lot with rules and norms for every petty little thing. Some colleges like St. Joseph's have made it compulsory for their students to avail either their own transportation or hostel facility. Even food for the students is taken care of. "We are always expected to adhere to the rules laid by them. If not, the head of our department would cease our ID cards and would ask our parents to come the following day to provide an explanation", says a student of this college who wished to be anonymous. This is not an isolated case in Tamil Nadu. Many privately run engineering colleges have similar rules. Many "reputed" colleges have a very rigid system of rules and regulations.

The time in college which is supposed to be the best part of a student's life is being controlled and regulated by means of stricter norms and rules. The college authorities must take their times in realizing that such rules are not helping students in any way. They must also understand that the world's best universities do not emphasize on dress codes except on special occasions. Instead they stress on what the students do with regard to education. Though the issue of dress code and regulations sound trivial, every little thing adds to the bigger picture. It is high time colleges turn away from stressing on dressing sense to looking at the quality of education.
(1)
In India, every regional university has several affiliated colleges. Those colleges usually offer 4 years bachelor's degrees but rarely master's degrees. Their rules and regulations are set up by the university they are affiliated to, which also decide on the course program.