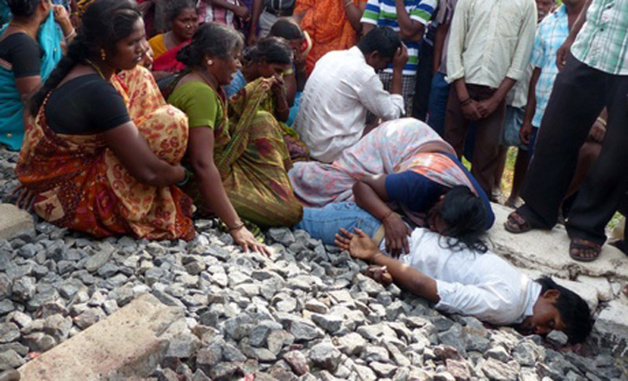 DR
Caste differences in India are deep-rooted. Though there is progress, casteism still prevails in most rural areas. This particular issue flared up during the month of November last year, when a Dalit boy Ilavarasan married a Vanniyar girl Divya. Dalits are a reference to the people of lower castes whereas Vanniyar has a slightly higher standing in caste hierarchy.

Reacting to their love affair turned marriage, the girl's father committed suicide which triggered caste riots around the Dalit settlements in northern part of Tamil Nadu. The rampage was orchestrated by a 1500 member strong mob of Vanniayars after they learned about the suicide of Divya's father. Over 200 houses belonging to Dalits were torched, rendering hundreds of people homeless. In response to these events, Ilavarsan and Divya fearing for their lives, sought refuge with the local police.
Bizarre twist
Tensions remained high in the village to which the couple belonged. However, in a very bizarre turn-about, eight months after their marriage, Divya deserted her husband and came back to live with her mother. When a case of habeas corpus was filed by Ilavarasan's parents, Divya cited mental stress caused by the marriage as a reason for moving in back with her mother. In response this case, a few others filed by the caste outfits claimed that Ilavarasan was not of legal marriageable age as he was not yet 21 when the marriage took place. In India, the legal age to marry is set at 18 for women and 21 for men.
This issue had been widely politicized with Dalit and Vanniyar parties involved in mud-slinging. A Vanniyar outfit even claimed Dalit boys lure upper caste girls into relationships using "attractive clothing and accessories". This sparked a controversy and the other side responded by running half naked to mark their protest against this statement.
Unexpected turn of events
The story took an unexpected turn when Ilavarsan was found dead near a railway track. Autopsies, which were conducted twice, declared he died of head injuries. The police claimed it was a suicide while the boy's parents alleged that a caste outfit murdered him. The death of Ilavarsan came two days after Divya issued a statement saying she would not go back to him and would stay with her mother, as the memories of her father haunted her time and again. The parents of the deceased held this to be the result of Divya being pressurized by Vanniyar outfits to issue such a statement. With a lot of drama revolving around his death, Ilavarsan was put to rest on July 14 amidst high security and thorough scanning by the police to avoid any form of violence. The High Court of Madras has ordered counseling sessions for Divya by a set of government doctors to help her overcome the trauma.
Public reaction
Reactions from various quarters have blamed Divya for relenting to the alleged threats of caste outfits. Even the parents of Ilavarasan claimed the same. "It is more to do just with a case of suicide; the government must investigate this mysterious death", says Karthik, a student of Journalism. He also adds that this case would be a bad precedent to inter-caste marriages in rural areas.

What is especially disturbing is that such events have occured in a supposedly progressive age. Now the case of Ilavarsan and Divya will be yet another impediment in inter-caste love-marriages. In India where parental approval makes or breaks a marriage, this tragic incident will further discourage parents from approving such alliances. It is also a matter of concern that external elements continue to meddle in the freedom to choose that is enshrined in the constitution of India. Tamil Nadu still is divided by caste-lines and may take a long time before marriages become caste blind.