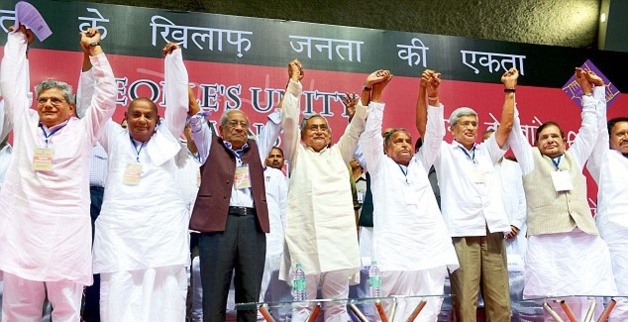 © Getty Images
This third front has been christened as 'secular front' and promises to be an effective alternative to BJP and Congress are high. Major left parties like the Communist Party of India have joined hands with parties which have a regional presence such as Samajwadi Party in Uttar Pradesh, AIADMK in Tamil Nadu and even Biju Janata Dal in Odisha. At the end of February, these parties officially declared they would face battle in the elections together. But the million dollar question was left unanswered—Who would be their Prime Ministerial candidate?

The alliance washed this question down stating that it would be decided post-election, but the reality is that this front is nothing more than a collection of parties whose leaders have Prime Ministerial ambitions. Officially posing a candidate always runs a risk of rupturing the alliance even in the nascent stage. The 'Secular Front' is playing its cards close to its chest and is waiting for the elections to decide their viability.
Third fronts of the past
The 'third fronts' in India are not without a precedent but are not known for their stability. The first of 'Third fronts' came up in the year 1989 led by Janata Dal and V P Singh became the Prime Minister. The alliance broke apart after a mere 16 months of governance. The elections held right after that in 1991 witnessed the Janata Dal being pushed to the third spot and Congress led by Rajiv Gandhi forming the government with external support from the Communist party.

Another such episode prevailed in 1996 when Janata Dal once again formed the government with H D Deve Gowda as the Prime Minister. This government collapsed in 1998 when the Indian National Congress pulled out its support after Janata Dal refused to drop the DMK—another regional party in Tamil Nadu—from the alliance due its allegations of links with the LTTE, the pro-Tamil movement which assassinated Rajiv Gandhi.
Modi's strategy in Tamil Nadu
Narendra Modi has now chosen a different approach in securing the seats from Tamil Nadu. Instead of appealing to the DMK or the AIADMK (the two major regional parties) Modi has decided to negotiate with smaller parties and to form a collective alliance. Tamil Nadu and the former French colony Pondicherry collectively holds 40 seats to the Lok Sabha. Modi is now talking with these smaller parties on seat sharing while contesting the elections.

The talks about the third front used to rise and fall like a tide. Now the Secular Front is gearing up to contest the 2014 Lok Sabha elections. The sustainability of the alliance would be tough especially when alliance is one of a kind where many leaders have their own Prime Ministerial ambitions. Experts opine that, if at all the third front comes to power, the government they form may not be a stable one. The precedents strongly support their claims.