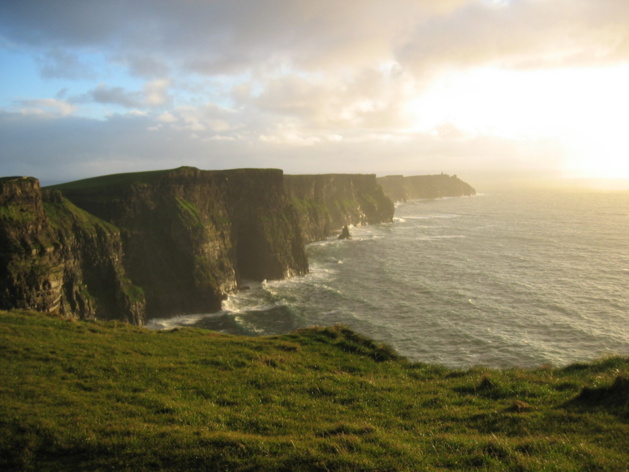 Cliffs of Moher | Credits -- Tara Reid
Fáilte go hÉireann!" Get used to these words as they will often be pronounced to welcome you to Ireland. The weather might not be great on your arrival: clouds and grey sky. It doesn't matter. It's high time you get off the beaten track of Irish clichés and discover the Celtic Tiger!
BAILE ATHA CLIATH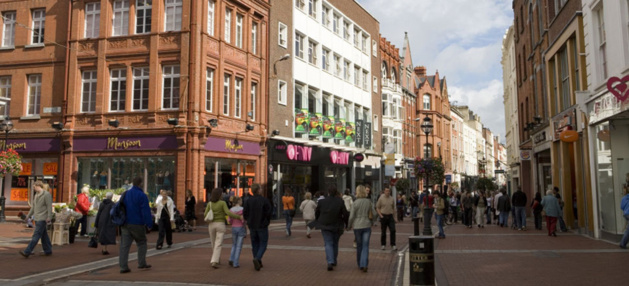 Grafton Street | Credits -- Mespil Hotel
Your first stop will obviously be Dublin or Baile Átha Cliath in Irish. This might come as your first Irish surprise: Ireland possesses two national languages, English and Gaelic. Also spoken in Scotland and on the Isle of Mann (despite variances), it is a language which will not come handy to decipher unless you live in Kirkwall, north of Scotland.

There you are, in Dublin. The "Black Pool" as its Viking name indicates (they were indeed the first inhabitants around the IXth century). Aside from being a capital, Dublin is also the first city in terms of population (approximately 1.2 million for an island populated by 4.5 million people). Among typical attractions, you cannot miss the pubs, short for "public houses". Bar, restaurant, entertainment place, they are essential for local survival! Ireland counts at least one pub for each village. Some ironic lads even say there are more pubs than islanders !

In the middle of the city, you will find the Liffey River dividing the city on an east-west axis. For a long-time used for the transportation of Guinness (on barges), it is now just a river whose flow had to be controlled through the creation of two canals in the north and in the south of the city. You can take a bus from the airport (private companies charge €6 while Dublin city bus #16 will only charge you about €2.50) taking you to O'Connell Bridge whose peculiarity is to be larger than it is long.

O'Connell Street does not present any touristic spot except, maybe, the General Post Office (GOP) from which the 1916 Easter Rising led by solicitor Patrick Pearse started. As was often the case in Irish history, this rebellion was ferociously subdued by the English Army who could not bear any rebellion or independence claim during WWI. The GPO is easily localisable due to the striking presence of a giant iron construction ("The Spire") nearby. Nicknamed "the needle" by Dubliners in reference to the numerous junkies who used to live in Temple Bar squats, it symbolises the now-friendly relationship between Belfast in Ulster (the same construction can be found there) and Dublin, in the Republic of Ireland.
If you cross the bridge toward the south, you will hit the heart of Dublin: College Green and Trinity College, Temple Bar and its hundreds of pubs which (almost) never close. A bit further south, Grafton Street will lead you straight into Victorian Dublin.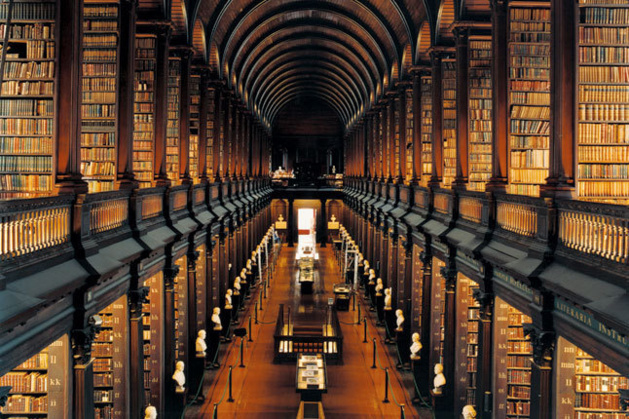 Trinity College | Credits -- Matthew Buck
Let us start by Trinity College, shall we? This article does not aim at telling you the whole story of this 1592 university funded by Queen Elizabeth I for Irish Protestants. A guided tour ran by students will probably teach you more than I can. I can however recommend you to visit the Great Library where the College keeps the Book of Kells – a IXth century illuminated manuscript – as well as the Natural History Museum (you can get a ticket for the guided tour and the Library for only €10 near the main entrance of the College, visits are available in various languages – depending on the availability of the students). For those of you more interested in cinema than in old, dusty libraries, just be warned that the library served as basis for the set of the Star Wars Library in episodes II and III!

You will find culture to be omnipresent in Ireland! Street shows, singers, actors, humour comedies, theatre and poetry can be seen/heard in the streets and in the pubs. The Irish love literature and they can boast about being the only country with three Nobel in Literature. Trinity is also host of one of the biggest European library and numerous cultural events (among which talks and art exhibitions) are organised all year-long.
CULTURE OR PUB ?
But you might be keener to go to a pub to enjoy a Guinness or a whiskey. The choice between the two is one of the toughest. The popular saying "tell me what you drink and I'll tell you who you are" has probably never been as true as in Ireland where Guinness and Jameson flood the cities every evening.

Guinness first. The plant is located in Dublin, near St James' Gate district, in the west of the city following the Liffey River. The hop on/hop off bus can drop you at the main entrance. Its founder, Arthur Guinness – whose day is celebrated nationwide around September 26 – probably never thought of outsourcing production as he signed a 1000 year-long lease for the location! Guinness is the ultimate weapon of local survival: dark, thick and rather bitter the Irish say there is "as much to eat in a pint of Guinness as there is to drink!" It is obviously a stout and is therefore stronger than the other ales or lagers. Economically speaking, Guinness is a master asset in the Irish government economic strategy: with a pub in each village and thousands of jobs linked to the alcohol trade (from service to transportation…), Guinness is as much a symbol of national pride (think of the harp of Brian Boru!) as it is a guarantee of economic robustness.

For whiskey ("water of life" in Gaelic), Jameson will probably be the first brand you will taste. Note, however, that the plant is located in Cork and that the visit proposed in Dublin is a pale substitute for the real tour. For whisky lovers I will recommend visiting the Black Sheep (Capel Street) or Café en Seine (Dawson Street), two pubs which possess an impressive collection of whiskeys. Contrary to scotch (Scottish whiskey) and bourbon (US whiskey), Irish whisky is distilled thrice, making it nearly transparent, with a distinct, clearer taste than the two other kind. Among whiskey to be tasted are Black Bushmill's (Northern Ireland), Green Spot, Writer's Tears, Redbreast or one of the peated whiskey such as Connemara. Avoid Paddy's and Power's at all costs!