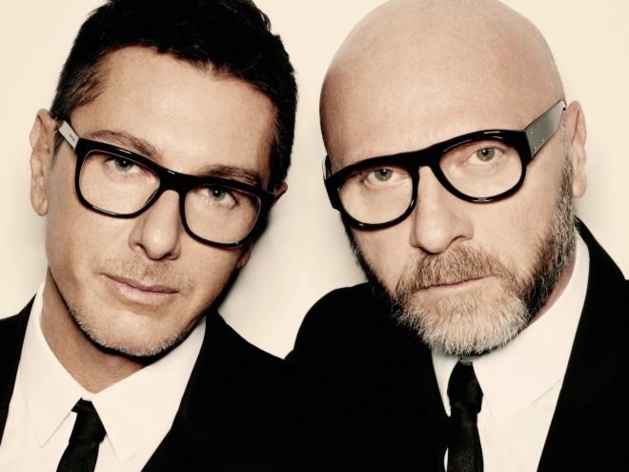 Photo credit : DR
Domenico Dolce was born in 1958 near Palermo, Sicily and Stefano Gabbana four years later in Milan. Dolce studied fashion design and worked at his family's small clothing factory, while Gabbana was a graphic designer. They met each other at an atelier in Milan, where they were both working as assistants. Shortly after they became a couple and began freelance designing together in 1982. It was Sicily that brought the two together; as Dolce's birthplace and Gabbana's childhood holiday destination it has provided inspiration for their creative aesthetic ever since. Although they ceased being a couple in 2005 they carried on the business as friends.

In 1982 they established a designer consulting studio ; in time it grew to become Dolce & Gabbana. They presented their first women's collection in 1985 in Milan, where a year later their store would open its doors. Two years later they launched their leotard line, and in 1989 they began designing underwear and swimwear. Dolce & Gabbana started to export their products to Japan and other countries like the U.S., where they founded their own showroom in 1990. In 1992, the same year they presented their men's collection, they also launched their first perfume Dolce & Gabbana. They won also many important prizes such as the Woolmark award in 1991, the prize for "the most feminine flavor of the year" in 1993 and an Oscar for best male perfume in 1996. Towards the end of the 1990s their sales were around 500 million dollars and in 2003 alone their revenue reached 633.2 million dollars.
Their problems began when in 2004 they sold their brands Dolce & Gabbana and diffusion label D&G to the designers' Luxembourg-based holding company Gado Srl. Four years later, in 2008 the Italian authorities called the sale a move to avoid paying higher corporate taxes in Italy. In May 2013, prosecutor Gaetano Ruta, demanded that Dolce, Gabbana and company board member Cristiana Ruella should be sent to prison for two-and-a-half years, while their accountant, Luciano Patelli, should be incarcerated for three years. The designers were charged with avoiding taxes of up to 600 million dollars.
Dolce and Gabbana have consistently denied the charges. "The charges were simply a paradox. The two designers were charged with not having paid taxes for an amount of money which was double of what they had actually earned," claimed the designers. A couples days later, their accountant, Luciano Patelli also made a statement defending himself against any wrong-doing, "our duty is to determine the borders for actions within the law and I am convinced that this was always top priority, as this is my usual method, transparent and with everything in writing, "Patelli said. "I feel that the words of the prosecutor were deeply unjust as I was defined an instigator to the crime, but this is not so. The necessity to save on tax payments after the restructuring of the company was outlined to me from the beginning, and it's natural and normal."

Despite all the denials the designers have been found guilty of tax evasion on June 19th, 2013 and Domenico Dolce and Stefano Gabbana have each been sentenced to one year and eight months in prison. In protest at being "pilloried" over their tax evasion convictions, D&G closed its nine Milan stores. The duo have sent a letter to the press explaining the reasons of the protest, "despite our passion and a sense of responsibility which push us to continue working with our usual dedication and drive, we are tired of being subjected to continuous slander and insults, which are detrimental to the serenity of our work place and distracting us from our work as designers. We are very fortunate to work with people who are gifted with rare excellence, both from a technical-professional point of view and from a personal point of view; they believe in us and this situation is taking away their motivation. The closing of our shops in Milan is a symbol of our disdain."
Store doors for the time of the protest were bearing the message "Closed for indignation", alongside a newspaper article in which city councilor Franco D'Alfonso argued that the label should not be able to show in Milan's communal spaces in September. The 250-strong store staff was continued to be paid throughout the closures. All the boutiques were reopened a couples days after.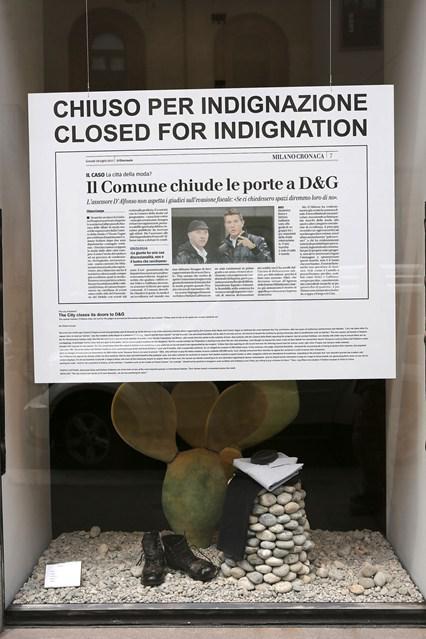 Photo credit : Getty
Yesterday the Italian appeals court upheld a ruling by a lower court from last june that Domenico Dolce and Stefano Gabbana have been found guilty of tax evasion and sentenced to one year and six months in jail (suspended sentence was however reduced from 20 to 18 months as the statute of limitations applied to certain facts in the case). Dolce and Gabbana's lawyers have said they would appeal the decision to Italy's highest court.
Over the past year Italian courts have been busy with more fashion tax evasion. For example Armani had to pay 373 million dollars to settle a dispute over a subsidiary in Switzerland. What's more Prada Holdings recently settled with tax authorities, agreeing to relocate holding companies similar to Dolce and Gabbana's in the Netherlands and Luxembourg (both lower-tax regions) back to Italy and pay 580 million dollars in backdated tax. Despite this, Miuccia Prada and Patrizio Bertelli are still under investigation. All these cases raise the question whether the tax authorities in Italy aren't messing around too much with fashion companies, or maybe the designers haven't been clever enough in their attemps to avoid paying taxes.