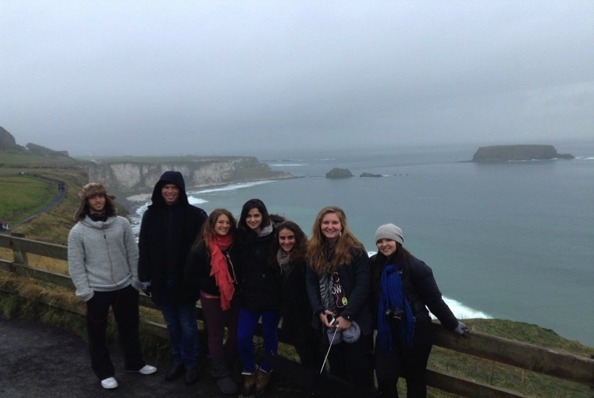 Aardvark youngsters in Ireland | Credits : Liron Milbar
Le Journal International : Hi Liron. Thank you for answering our questions. In a few words could you describe what you and your organisation do?

Liron Milbar : Hi! So Aardvark is a private company which proposes cultural stays and academic semesters or academic years to Jewish students who live abroad. We develop different kind of programmes for Jewish teenagers who are interested to discover more about Israel, its culture, history and the country in general. We welcome students from 17 to 21 and have people coming from over the 5 continents!


JI : I had heard about a programme called Birthright, in what way are you different?

LM : Birthright is a semi-governmental programme implemented by Israel and financed in part by the government and in part by Jewish organisations. It consists of a ten days trip in Israel for foreign Jewish students. Aardvark is the logical continuation of this programme. A lot of our students have been on Birthright, enjoyed their experience in Israel and have contacted us to see how we could help.


JI : So these students generally go through Birthright first and then decide they want to learn more about Israel. It seems like Israel is keen on maintaining contact with Jewish communities around the world?

LM : As you might know there is an important Jewish diaspora. It is estimated to around 13 million. This figure might seem immense but it is in fact rather small. It is therefore important for Israel to maintain such an identity link. As a community you want to identify as Jewish, identify with the State of Israel. In the Biblical aspect as in today's more modern aspect. Some might say it is a way to strengthen a network but it is mostly a way not to lose our culture. We usually make reference to the "Jewography" which is the intangible map of connections between Jewish people and Jewish communities. 13 million is not that much and we are bound to know each other. Aardvark is an instrument which enables students to forge connections with other students all over the world.

JI : How are your programmes organised?

LM : Our programmes are based around three core principles. The first principle is immersion. Students live in student residences. They are not isolated from other Israeli teenagers. In fact they live with them in these residences, sharing their daily life, occupations, exchanging with them – as if they were Israeli students themselves. Our second principle could be summed up as "service to the community". Our students are placed in communities or organisations. From small organisations and NGOs to private companies or state departments they gain practical insight into the community. We work with over 60 different organisations and there is something for each of them. You want to work with animals? We have something for you! Our third principle is learning. Students can take academic classes for college credit. Some of them are pursuing degrees in their own countries and can continue these here in Israel. In fact a lot of our students pursue academic classes. The only requirement Aardvark has is that students must take Hebrew classes. Others decide to take a gap year. However in the end they will have learnt about Israel, its culture, tradition…


JI : So some students take classes – but what other cultural activities do you propose?

LM : Our students also join trips around Israel, they visit a lot of different places, attend excursions, over-night trips. It's a very interactive programme. The programme I am currently supervising (at the time I met Liron, ed) is called the International Track programme. Once a month students travel for about a week or so to another country. Being located in the Middle East is ideal as you are at the fingertip of everything. This year they have been to Norway, Spain, the Czech Republic and Ireland. Next year France and Ethiopia will be planned. These countries are not chosen out of the blue. They have a significance with Jewish culture, with the state of Israel.


JI : What significance does Ireland have?

LM : There is an unexpected Jewish community in Ireland. It is very small but still existing. During these trips, our students get to meet members of the local community. There is what I call a "Jewish day" during every trip. In Dublin for instance we will meet the Israeli ambassador to Ireland, visit the synagogue and attend Shabbat when possible. If the city hosts a Jewish museum then it I a must-do. But don't think that all our trips are centred only around Israel! We still do a lot of touristy things and in Dublin we will visit the Jameson distillery, the Leprechaun museum, the Giants' Causeway and go into pubs! Within our Israeli activities we always try to incorporate cultural activities from the country we are visiting.


JI : You mentioned Aardvark was a private company. However you are still funded by the Office of the Israeli Prime Minister and Jewish state agencies…

LM : Remember before the state of Israel was created, Theodor Herzl created the Jewish congress as an answer to the Dreyfus Affair in France. Long story short but after the foundation of Israel, the congress still maintained a financial significance as Jewish donors were funding the state through the congress. Some of these funds were allocated to different communities to help them out. The role of Jewish agencies is twofold. First they seek to strengthen and revive the Jewish communities (diaspora) living abroad. Secondly they try to appeal to the members of these communities so that they move to Israel. One of their main mechanism to communicate with the diaspora is Masa. This organisation, whose name means "journey" in Hebrew, works hand in hand with the Jewish agencies. Aardvark is linked to them. Due to this link we can provide scholarships and grants to students despite our private organisation status. While we only focus on teenagers from 17 to 21, Masa proposes programmes over 200 programmes which range for all ages. They encourage students from abroad to come and study in Israel. While funding allocation depends on the wealth of each country, Masa manages to bring thousands and thousands of people to Israel over the years.


JI : You recruit a lot of students from the US, what about Ireland?

LM : In marketing terms, the Irish market would be referred to as an untapped market. While I can go on marketing trips to recruit students to join us, this trip is a visit trip part of the International Track programme. If an Irish Jewish student asks me for information I will be delighted to help him but we normally have very limited connections with Ireland. People tend to consider Israel is a war zone and because of the political troubles marketing efforts are essential.


Further in the interview I collected the impressions of two US students from the programme, Leah and Sophie.

JI : Leah, Sophie, what led you to join such a programme?

Leah : In high school I was really involved in the Jewish community. I decided to get more involved. I joined the youth group and worked for them. After leaving high school I did not want to go straight into college and instead I started to look for gap years programme. A lot of my friends had gone to Israel and I decided to do the same. I asked for a brochure one day and the next day someone was already calling me! My mum was thrilled at the idea I was about to go to Israel. My grand-mother is a Holocaust survivor and I wanted to get that spiritual connection with Judaism. Not only is it important for me but also for Jewish continuity within the family. My sister used to be really involved in the Jewish community but not anymore. So it's up to me now. I like the idea of keeping that continuity, pursuing this heritage.

Sophie: I'm from Maryland and when I grew up I wasn't that involved in the Jewish community. But I was a member of BBYO (B'nay B'rith Youth Organization – a Jewish youth movement for teenagers in grades 8 to 12). In my last year at high school I spent two months in an Israeli high school. My parents are Jewish but are not involved in the community. They don't really have a connection. I am not religious but I am very curious and wanted to see what Israel was like. I spent two months there, came back, finished high school and decided to take a gap year before college to learn more about Israel. I am now learning Hebrew because I don't want to feel like a tourist there anymore.