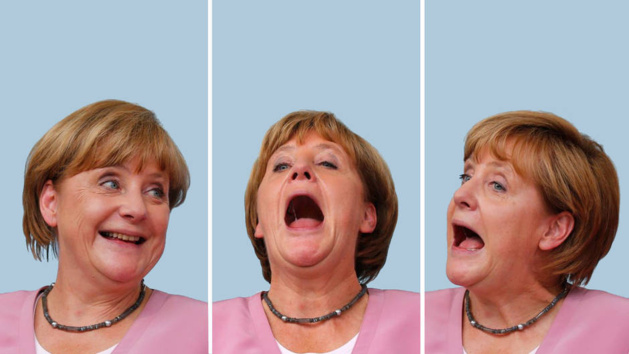 Crédit Photo - Reuters
The eccentric fashion designer Karl Lagerfeld was so concerned about Angela Merkel's style that publicly announced that he is ready to give her some fashion tips.

He assumed that the chancellor of Germany should dress according to her "special proportions". Asked by the journalists what does he mean by this Lagerfeld was less diplomatic: "Too long pants, too thight jackets, awful colours. Everything is wrong !" - he said in the interview for German Focus.

In particularly he didn't like the outfits the chancelor of Germany was wearing when welcoming the US President Barack Obama to Berlin back in June. "Bad proportions like the cut, the clothes like for a guy" - specified the famous designer who lives permanently in Paris.

However as far as Lagerfeld has heard, his native country's chancellor isn't seeking any fashion advice. "She has scarcely any time to come to Paris, and when she is in Paris to visit President Holland she is very busy."

But that's not the first time when Kaiser Karl criticises the look of powerfull woman. Asked by french television Canal+ about the Michelle Obama's fringe he said: "Barack Obama's wife looks like a TV speaker". He confirmed his lack of enthusiasm by adding: "Frankly, this doesn't suit her. The fringe was a bad idea, it's not good."

78 yers old designer rarely cares about the controversies caused by his judgements. Certainly he is not afraid of sharing an opinion, no matter how cutting it might be. It was him who pointed out that Adele is a "little too fat". And even though he apologized for that adding that the singer has a beautiful face he added that in the end his controversial comment about Adele being a little roundish may have actually helped her because she lost some weight.

But there was a time when Lagerfeld himself was overweight. In 2001 he lost 45 kilos only to wear the clothes designed by Hedi Slimane. "My only ambition is to wear size 28 jeans", he says about his goals in life.

Lagerfeld courted controversy once again when commenting the sisters' Middelton looks. About Kate he said: "I like that kind of woman, I like romantic beauties. On the other hand, her sister struggles", he continued. 'I don't like Pippa's face. She should only show her back."

Last yer Karl Lagerfeld has also accused President Francois Hollande of destroying France's economy by imposing painful taxes on the rich, calling the Socialist leader an "idiot". The designer, whose clients are largely the wealthy who stand to be most affected by Hollande's tax hikes, likened the president to Spanish Socialist former prime minister Jose Luis Rodriguez Zapatero. "This idiot will be as disastrous as Zapatero was", Lagerfeld said in an interview with the Spanish edition of glossy fashion magazine Marie Claire.

But Lagerfeld, known for his eccentric comments and unconventional looks, can be also self-critical. "I'm my own caricature and I like it. For me the carnival of Venice lasts all year long" he assumed relating to his famous look: black and white clothes, dark glasses and high starched collars.

Lately he revealed also that he is in love with his cat-Choupette and if he could he would marry her. It seems that Lagerfeld treats his pet better than the coworkers. Choupette dines at her owner's table on her own special pillow, has been pictured with her personal iPad and has a Twitter account with more than 27,000 followers. He showers her with attention and pays for two personal maids to provide 24-hour care for her at his mansion in Paris.

Although Lagerfeld is sourrounded by the atmosphere of mystery, he is one of the most recognizable people in the world. He is also a workaholic who designes the collections for three brands: Chanel, Fendi and his own label Lagerfeld. He is a photographer, an ilustrator and even a book publisher. Lagerfeld doesn't stop to fascinate.