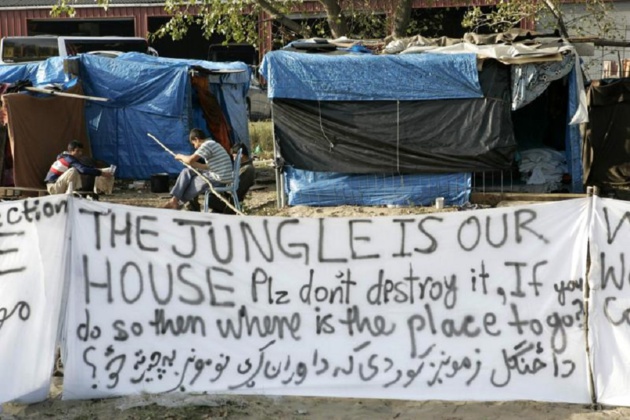 No sound, no photos, no cameras, no recording. These were the only conditions under which Khan would agree to an interview. According to Khan, keeping his identity secret protects his family, his wife and his two children, as well as his own life. As George Lefeuvre recently explained to the press agency
Sputnik
, Afghanistan is far from being peaceful, with the country struggling to fight a war on two fronts against the Taliban and Islamic State, causing many Afghans to leave their country.
You decided to leave your country and cross Europe to reach here. Can you explain your reasons, and what was the triggering factor which motivated you to leave?

I decided to leave my country because of the political situation. The current situation in Afghanistan is not good, and it hasn't been for many years. I'd rather not explain the specific reasons why I left, but I had trouble. It wasn't safe for me to stay there, and my life was in danger. The rest of my family weren't in danger – only me, so my only solution was to leave. I don't need money, I'm not here to do business. I would never ask anyone to lend me money or anything, even though I obviously appreciate the help I receive here in hospital. I don't think there is any country where I would have received more help than here in France.
Nevertheless, you want to go to England rather than stay in France.

If I had the opportunity I would like to stay here, but the asylum process is too long. It would take at least 6 months to get papers. Going to England also is easier for me because I can speak the language. Even if I thought I could learn French in 6 months, it will be easier for me in England, especially for my family to join me.
How would you describe life in Afghanistan at the moment? What was your day-to-day life like?

The situation in Afghanistan is very complicated. Don't get me wrong, I love Afghanistan; it's my country, and I loved the life I had there. I was lucky enough to come from a middle class family so I lived well before I ran into trouble. I had a big house, a big back yard, a good car, I was studying medicine. I drove a Toyota I'd bought for $7000. Not everything was perfect, of course, but I wouldn't have left if I hadn't been forced to.
The situation in Afghanistan changed radically in 2001 following the international coalition's intervention. Do you feel that western countries have given up on you? Or that they owe you something ?

To be honest, I don't like the American presence in our country. The situation was complicated before they intervened, but people died, and are still dying, because of them. I don't think anyone would like to see his or her country being controlled by another. It's a natural feeling, anyone can understand that. In a way, the Americans are responsible for what is happening. They get into fights with the government, with the Taliban… Why? Now, the country is under pressure. I think it would be better for future Afghan generations if they leave.
Can you explain how you arrived here, and your journey? Have there been moments when you've thought it wasn't worth it ?

My journey is a long story. Many people leave Afghanistan, I knew who I had to pay to arrive here. There is an enormous number of smugglers who organize the journey to Europe. I paid between $6,000 and $7,000 for the journey, everything was organized. I wasn't really worried, I knew I would arrive safely in Europe. I left Afghanistan in the back of a truck with 7 other people. We traveled up to Turkey, where we changed trucks, and then we went directly to Italy.

We didn't talk a lot during the journey, and when we arrived in Milan, we went our separate ways. Then, I just bought a train ticket for Paris and then took a Eurolines bus from Paris to Calais. The moment when I thought it wasn't worth it, was when I felt, when I had my leg broken. It was the worst moment of my life. Fortunately, the police and the security staff were there, they called an ambulance and that's how I ended up here.
Saudi Arabia claim that they have let more or less 500,000 Syrian refugees enter since 2011. The Gulf countries are mostly richer and geographically closer. Why did you decide to come to Europe rather than the UAE, Qatar, or elsewhere?

I chose to come to Europe because Arab countries don't grant long term visas. They could send me back to my country whenever they want, there would be no guarantee that I could stay. Rules are different between here and there, coming to Europe was simpler for me.
Can you explain how you prepared your departure? Did you plan it with your family?

I have a big family; I have five brothers and two sisters. Two of my brothers live away but the rest of us live with my mother. It's the way it is in Afghanistan, this is the rule. We respect our parents a great deal, because they're the ones who gave birth to us, and we're duty bound to take care of them. I also have two children, my wife was pregnant when I left. Of course, I took all of this into consideration but I made my decision on my own before telling them. They understand that my life is in danger and that I had no other choice than leaving. They agreed that it was the best thing for me to do.
How often do you hear from your family ?

I hear from them two or three times a month and only via Facebook or by phone. The internet doesn't always work well where my family lives, they don't access it very often. When I arrived in Calais, I went to the Jungle (a camp made by the refugees) and bought a SIM card in one of the shops. Some people sell a 3 Giga card for 10 euros.
Have you ever lied or hidden part of the truth to your family about your situation here or during the journey ?

Yes, I had to lie to them. I don't want my family, my mother or my wife to worry about me. I didn't tell them I'm in hospital. When I talk to them I just say that I'm trying to get to England as often as possible. My wife and my mother couldn't handle the truth so I prefer to hide it from them to protect them. My wife gave birth to my daughter twenty days or so ago, when I already was in hospital, so I didn't say a thing.
Not all the local residents in Calais are happy about the migrant presence in their city. Some have even created a protest group called Sauvons Calais [ndt : Save Calais]. Do you understand their feelings? Do you think Calais needs to be saved?

I only stayed for two days in the Calais Jungle, I didn't know there were so many people here. I was surprised seeing so many people when I arrived. I think people have the right to be angry. Not all of the foreigners here behave impeccably and this provokes issues in the town. I haven't had any problems here, I've had no trouble with anyone. They take really good care of me here in hospital. In reality, I think that 75% of the people would understand me if they knew what I've lived through and why I had to leave my country, with all of the problems it has. In any case, I feel that French people are quite welcoming with foreigners. I've heard that English people are a little bit less tolerant.
Living in the Jungle, how is it?
I didn't stay there for very long, but it is unbelievable. The
SALAM Association
helps to organize the camps and supplies tents, and enough food to eat. People who are there are under pressure, they face a daily fight to survive, everybody is stuck here… Some people are mentally dead. But there are also stores and restaurants, I told you I bought a SIM card in a store in the Jungle. There is even an Afghan restaurant where people cook like at home. I miss Afghan food a lot, I've lost 12 kilos since I arrived here. We use to put oil in everything in Afghanistan.
What else do you miss in terms of food?

Bread. We have a special way to bake bread, I love it. We make a large hole in the ground that we solidify with dried mud. We put small pieces of wood to make a fire and it works as a natural oven. It gets very hot, very quickly. Then, we put the dough in the hole and we knead it with two long sticks. It's natural and very good, don't hesitate to try it if you get the chance one day.
How do you see the future?

Do you have a plan for the long or medium term? As soon as I come out (of hospital), I will try to get to England again. I heard on the BBC that British people were wondering about accepting people stuck in Calais. I want to live in England. What I will do there is still uncertain. If I could continue my studies, it would be fine. I want to make my wife and my children come to England, I don't want a girlfriend, I don't want to cheat on my wife. Other than that, I don't have a precise plan, I will see what happens.
This might sound a bit pointless, but can you share one of your dreams ?

My dream? In Afghanistan, my dream was to be a doctor. I was studying for that. But now, I only want to settle down. My dream is to not live my life in hiding. I just want a normal life, with my family. I want to be safe, that is why I'm here. I believe in luck. You can try all you want, but you will always be relying on your luck.