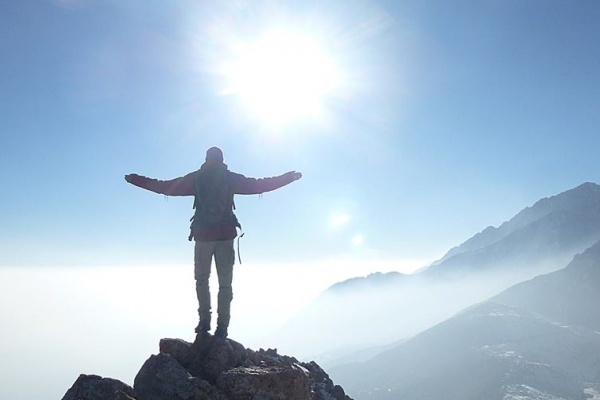 How long have you been a mountaineer ?

I started when I was 11, firstly it was on climbing walls, then during family hikes and finally free climbing. I climbed the Mount Kenya (5199m, the highest Kenyan peak, editor's note) when I was 18, then I climbed Mont Blanc (4810m, the highest peak of the Alps and of Europe) solo. During my military service, I joined a mountain division. I killed three birds with one stone by doing my service, my training and earning some money!
Why did you chose to go to Kyrgyzstan ?
Here, mountains are very high and more than that, they are beautiful. Being a mountaineer in this region is way less expensive than in China, for example. To participate in a Lenin Peak expedition, it costs $50 in Kyrgyzstan while it is about $2000 in China.
The Lenin Peak is one of the five "Snow Leopard Peaks" of the former Soviet Union, reaching up to 7000m. Credit : Jost Kobusch
How did you prepare for your climb of the Lenin Peak ?
I arrived in Kyrgyzstan in October. In five days, I found a car and prepared my 85kg of equipment. The taxi brought me to the starting point and had to come pick me up 21 days later. The Kyrgyz thought that my idea to solo climb Lenin Peak in winter was totally crazy. At 4200m, I built my first base camp where all my material had to be stocked. From there, I carried some of my stuff to camp 1, at 4400m. Then, I walked an entire day on a road covered with snow finally having traveled only a third of the journey that was planned, so I decided to come back to camp 1 and sleep there.
The next day, I decided to continue my way. The snow seemed less thick. Until 5112m, I mostly adapted myself to the altitude. The real climbing part started on the last step, after 11 days in the mountain. In summer, it normally takes one day to go from the camp 1 to the camp 2. I thought it would take me a few days. You have to be really careful, you have to see how the land lies with your stick before every step to avoid falling into a crevice.
On the tenth night, I pitched my tent on a 5-meter ridge with a width of 4700m. During the night, a storm broke out that could throw my tent into a crevice. I threw myself out, still in my underwear, and I gripped the tent using all my strength to hold it back. If I lost my tent, I also lost a big part of the equipment that was inside.
I didn't know what to do. I'm not particularly a believer but, at this moment, I prayed to God for his help. I don't know if it was God or fate but the wind stopped for a few minutes. I took advantage of the opportunity to jump into a crevice with my equipment in order to shield myself from the wind. After this move, a violent storm started to blow just over my head.
After 3 days and 2 nights, all my lighters were out-of-order and I just had one litre of drinking water left. From camp 2 at 5500m up to the peak, you have 2 days of climbing. I filled my bottles with snow and let it melt with my body temperature.
Unfortunately for me, the weather had predicted another storm. I still tried to move forward a little bit with a lighter equipment. But after 600 meters, the storm started again. A little higher, the wind blew at 80 km/h, the temperature was under 29 degrees celsius. I couldn't feel my legs anymore and I could feel my body getting colder. At the top of the Razdelnaya Peak, at 6158m, as the wind got stronger, I decided to come back down. Sometimes, you have to turn around to be able to tell it to people. I wasn't disappointed. I had tried everything to get to the top.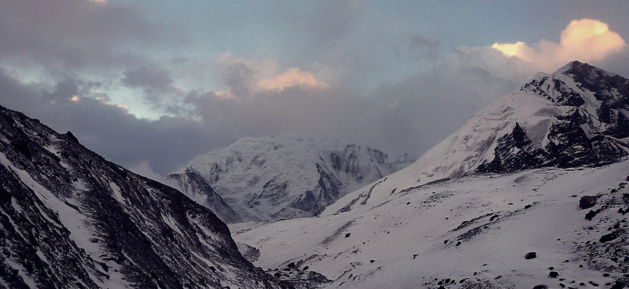 Photo credit DR
What else did you do in Kyrgyzstan ?
I climbed a lot. I went to the Pyramid Peak at Bakten. I tried to reach other peaks, but it is really complicated in the Kyrgyz winter. There is a lot of snow. I also voluntary worked for "CBT Kyrgyzstan" as well as setting up the route of a new cross-country skiing path. After which I had been the first to climb another Kyrgyz peak and I named it after my girlfriend.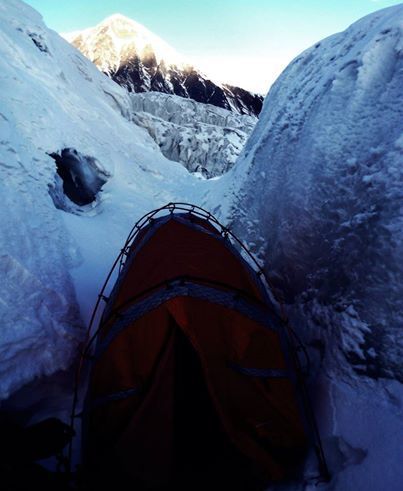 The day after the storm, at 4470m, and waking up in a crevice. Credit : Jost Kobusch
How did you do that ?
To name a mountain ? In Kyrgyzstan, they don't celebrate Christmas in December, so I wanted to do something special. On the 24th, I climbed the mountain and arrived in time at the peak. It wasn't easy, especially because of the snow, the rocks and the ice. On the 24th December, at 8:12 p.m., I was the first to reach this peak of 4048 meters of altitude and I named it the « Yoko Peak ». There, I left a letter with my contact details and the date in an aluminium box. After the climb downhill at night, I arrived at home the next day at 4:30 a.m. CBT gave me an official paper proving I was the first.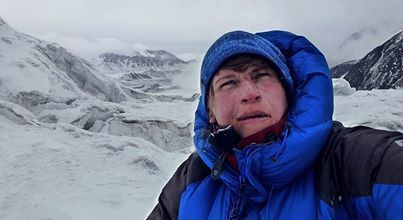 Fifteenth day Credit : Jost Kobusch
Have you got any other projects ?
Yes, I would like to gather more information from Kyrgyzstan climbing websites, on rocks or on glaciers, in order to make them available for climbers. I would also like to climb other mountains in Kyrgyzstan. I especially would like to climb five of them to get the Snow Leopard award. It is a soviet honour for exceptional mountaineers that succeed in climbing the five Soviet peaks at 7000m: the Ismail Samani Peak (7495m, formerly "Communism Peak", editor's note) and the Korjenevskaya Peak at 7105m, which both are in Tajikistan, the Lenin Peak (7134m) on the Tajik-Kyrgyz border, the Jengish Chokusu (7439m, formerly "Pobiedy Peak", editor's note) on the Sino-Kyrgyz border, and finally the Khan Tengri at 7010m on the border between Kazakhstan and Kyrgyzstan. If I succeed in all this climbing, I would be the youngest mountaineer to receive the award. Like I said, I didn't expected that much snow nor that it was impossible to reach the peak in winter. Otherwise, except climbing, I would like to study medicine to be able to work as a mountain doctor. I think this is a very important field for mountaineers.