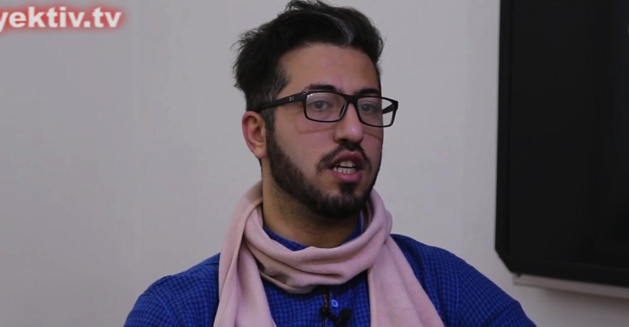 Credit: Courtesy of Obyektiv.tv
In September 2014, Atilla got engaged to his boyfriend, privately in the company of a few close friends and like any young man in the loop,
updated
his Facebook status. The following day, Azeri media leaked private photos of him which included personal details. He and his fiancé faced serious homophobic threats and attacks, leading him to flee Azerbaijan and seek exile in Germany. There, Atilla does his best
continuing
his struggle so he can one day proudly raise the rainbow flag in Baku.
How did you get involved in the democratic process and the LGBT cause in Azerbaijan at such a young age?

My name is Javid (Atilla) Nabiyev, I am 25 years old and I am gay. I have been working in the field of human rights for over six years. I began in 2008 upon entering university. I joined the organisation "Common Sense" and served for two years as a member of the board. In 2010, I created the organisation "Association for the Future" which defends liberal values in my city Sumgait. I am one of the founders and current members of the Liberal Youth Network of the South Caucasus and the Junior Achievement Azerbaijan Alumni Club. I have also been a member of AEGEE-Baku (European Students' Forum Baku). I was one of the first graduates of the School of Youth Instructors and a student at the Baku School of Journalism. My main activity in the field of human rights began with the Election Monitoring and Democracy Studies Center. As a part of my work, I coordinated over 200 people in 12 regions. I thought that, being homosexual myself, I could use all of my skills to fight for LGBT rights. For two years already, I have been working towards equal rights in Azerbaijan. I created and preside over Nefes LGBT Azerbaijan Alliance. "Nefes" means "inspiration" in Azeri.
How would you describe the authority's control over civil society in Azerbaijan?
Due to the Azeri regime, involvement among civil society remains small. People do not talk, mention or even think about a process of change. Having worked in monitoring elections for international organisations, I can say that participation was below 40%, if one does not consider pro-government reports, of course. The level of education is terrible and if one wants to control people, then one just has to remove education and culture. The idea behind this lack of education is to prevent the Azeri people from getting involved in civil society, reflecting on questions and asking for more rights, leaving them ignorant. Thus, they do not believe that a resolution could bring about any change. The presence of law enforcement officers throughout our country is so strong that the Azeri government could be called a "police" state.
The regime's strength also comes from the Armenian-Azerbaijani conflict. We are told: "We are living in a state of war. We must remain united around our president Aliyev against our enemy". Ilham Aliyev benefitted from the Nagorno-Karabakh conflict by adding a new article to the Constitution: "in times of war, the president can stay in power until the war is resolved". Clearly, this is a means of keeping power. Coming back to involvement in civil society, if one compares different generations, true cooperation exists among the youngest. The new generation is more inclined to express its opinions and desires for change. If things
continue
like this, civil society in Azerbaijan will be increasingly stronger and more involved.
These last years, the European Union has signed several contracts on pipelines running through Baku to central Europe. These serve as an alternative source to Russian gas and petroleum. Do you think the rush to petroleum and gas is leading the European Union to close its eyes to the current state of fundamental rights in Azerbaijan?

You are on the right track. Azerbaijan has become a country that world powers like Russia, Iran and Europe use for political benefit. Because of its small size, a country like Azerbaijan has especially few means of protecting its independence. Unfortunately, contracts between Azerbaijan and other countries are mostly economically not politically motivated. Azerbaijan has energy resources and infrastructures which benefit European countries, an advantage which protects and profits the current regime.

Thanks to petroleum revenues, Aliyev's regime has conducted a stable and prosperous diplomacy. Russia and other Western nations have tried to destabilise the government, but European assets in Azerbaijan would be reduced. During the 2003 elections, the Azeris confronted this situation. When Heydar Aliyev was president and the partnership agreements were in progress, a president from another party would have changed all political strategy, possibly worsening economic relations that have existed between Azerbaijan and the European Union for eight years. And even if the opposition candidate had won, Ilham Aliyev took on the presidency as his father's heir, with the help of European countries. Therefore, if power had changed hands, the view on the conflict could have been different, possibly leading to a second Nagorno-Karabakh war. This could have ruptured markets in Kazakhstan and Turkmenistan, since Azerbaijan is a transit country for natural resources between Central Asia and Europe. So, the stay in power was very important for protecting the benefits of European countries.
Homophobia remains a large problem throughout Europe. Last year, the French Parliament passed a law allowing homosexual marriage and there were big protests against it, as well as a rise in homophobic acts. How can this be resolved?

I think that any situation can be resolved by informing people. We can stop prejudices by emphasising gender in the educational system. Another way would be to limit the role of religion within the community, but I am not saying to close churches or mosques. The two should be done simultaneously. If students were to discuss homosexuality in school, they would reflect and analyze the situation differently. I am sure that if people were informed, they would not say that homosexuality is a disease or a sin. They would understand that homosexuality is outside of our choosing or desire. God loves man as he was created.
Now that you have fled Azerbaijan and the activities of your organisation NEFES have ended, how will you continue to fight for human rights and the LBGT cause?
I did not wish to leave my country. Even though it all began on the 23
rd
of September, 2014 [the day following his engagement to his boyfriend, the Azeri press leaked Atilla's personal information, setting off a nationwide campaign of homophobia against him], I left in December 2014. Sure, these events forced me to leave, but the main reason was my own safety. There is ample information on what goes on in Azerbaijan. Staying there and continuing my operation would have gotten me in prison. Otherwise, I would have to keep quiet and enter the ranks of the political regime. Unfortunately, whether I like it or not, I had to flee. I want to stay out of Azerbaijan but
continue
to fight for what I believe in. The first ever European Games are coming soon [June 2015] and my goal for NEFES is to successfully set up our project "Compete for Equality". On the other hand, now that I am in Germany, I will be closer to European institutions and NGOs (non-governmental organisations) which defend human rights, bringing awareness about my involvement to the Azeri people. I foresee cooperating with many NGOs in order to reach as many people as possible and to have them understand this ongoing issue in Azerbaijan. There is currently a great deal of propaganda
directed
against my involvement. The national media is also preventing me from criticising the government. But from now on, I always have a purpose and the moment will come when I wave the LGBT flag in Azerbaijan and those who judge me will have something to say.
In 2014, Azerbaijan headed the Council of Europe, an organisation based on the European Convention on Human Rights. Do you think this has affected the situation in Azerbaijan?

If one looks at the last few years, the fact that Azerbaijan joined [in 2001] or headed the Council of Europe has changed nothing in the country's politics on human rights. On the contrary, it got worse. Eight members of Nida Vatandaş Harekati (a political party in Azerbaijan) were imprisoned just before the 2013 elections. Leyla Yunus and her husband Rasul Jafarov were incarcerated. While the court was making its final judgment, my managers were sentenced to three and five years in prison. Ilham declared before the assembly that Azerbaijan had no problems with human rights. During the Council of Europe, the president suspended all political pressures on our government for six months. It was as if the regime were defying all of Europe by saying: "We have nothing to do with what you say, we are not afraid!"
Do you think the Eastern Partnership; the partnership and cooperation agreements with the European Union; and Azerbaijan's membership in the Council of Europe positively influence the situation in Azerbaijan?

Unfortunately, I do not have much hope in the near future. If you look at the current situation, lawyers, members of NGOs and independent journalists who defend of the rule of law get imprisoned or flee their country because of political pressure. Aliyev's government is ignoring its international obligations and is taking the liberty to do absolutely anything. I see only one way out: the European Union asking Azerbaijan to advance in human rights, freedom of the press and free elections. In my opinion, Azerbaijan should inevitably pay economic sanctions.
Your organization NEFES has not been recognized by the Azeri government. If homosexuality were "legal" in Azerbaijan, would it be possible to challenge its decision not to recognize NEFES?
Yes. Homosexuality was removed from the Azeri Penal Code by Heydar Aliyev in 1998. But in Azerbaijan no law is applicable, so there is no surprise that we have not been
registered
. In 2014, Azerbaijan placed 48
th
in ILGA Europe's (International Lesbian, Gay, Bisexual, Trans and Intersex Association, Europe region) rankings on LGBT rights in Europe. Azerbaijan is just ahead of Russia, last in the list and considered the most dangerous place in Europe for the LGBT community. Although a member of the European Council and the Eastern Partnership, Azerbaijan has failed to engage in LGBT rights. Not a single legal act or even hate crime law has been passed.
The people in Azerbaijan are Muslim, but one must consider that, according to the Constitution, state and religion are separate. Everyone is equal under the law. Last year, however, three Azeri deputies declared that Azerbaijan would never recognize LGBT rights. All of this shows that the government is blatantly homophobic. Nonetheless, there exists an LGBT organization called "Gender and Development" which is officially validated by the government. It is financed by the Ministry of Health of Azerbaijan Republic. It does not meet criteria of independence and cannot express itself freely without external pressure. This shows that it is not a question of being LGBT. The government is not concerned with the field of human rights and is blocking change in any way possible.
The first European Games will take place in Baku in June. This is not the first time Azerbaijan will be hosting an international event (Eurovision in 2012). Do you think media attention for Azerbaijan will help raise awareness of the human rights conditions and democratic process in Azerbaijan?

The Azeri government is spending monstrous amounts of money to build a positive image of the destination country. That is what these events are for. In this way, the government is trying to hide reality by creating an ideal image of a state which is both socially and economically developed. Projects such as "Compete for Equality" can help us put pressure on the international community by drawing its attention. There is no doubt that human rights groups exist and that with support from the international community we can create a virtuous circle.