Crédit DR
On September 29th, during a Conservative party meeting in Birmingham, the Secretary of Transport Claire Perry sounded the alarm: "one million cases, it is far too much. I am determined to make sure things change. We have to think about the security of our public transport."
This reflection led to a proposition: the separation of men and women on public transport, with carriages exclusively dedicated to female passengers during rush hours, because they were more likely to become opportunities for sexual assaults. However, this measure is far from gaining unanimous support from the British population.
A controversial project
Only the day after Claire Perry's declaration, journalists and Internet users were already discussing a potential "segregation" on public transport. Defenders of gender equality reject any form of segregation, comparing this measure to the one established against black people in the 1960s in the US. Katie Grant, a reporter for The Independent, stated in the 30th of September issue that "women-only carriages would be an insult to both sexes", and wouldn't be a solution: "tackling sex crimes should begin - and end - with the perpetrators not the victims"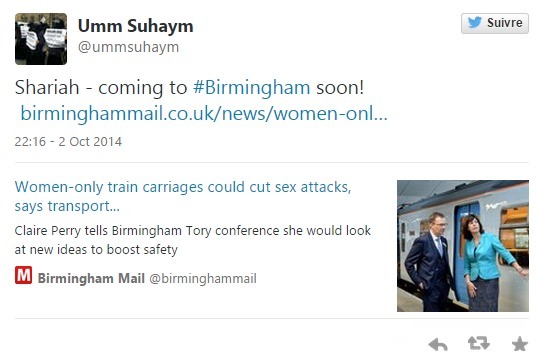 In comparison to these moderate opinions, some ideas appear way more extreme: on social network sites, in a context of rising Islamophobia within Western societies, some web users are concerned about the introduction of Islamic sharia law on British territory, like this tweet testifies.
This is not the first time that the United Kingdom has encountered this issue. It is important to notice that exclusive carriages for women on the Underground existed before in London, and were only abolished in 1977. Also, in 2008, the Liberal Democrat candidate in London's City Hall Brian Paddick suggested a similar project. We have to remember that whether it be taxis for female customers and driven by women in London (with the Pink Ladies), or the SheRides in New-York, or the Woman Cab in Paris, these measures already exist.
Numerous examples of this kind of separation can be noted all over the world. In Japan, where 64% of women between 20 and 40 years old have been sexually assaulted on public transport, carriages exclusively dedicated to women have been in use for several years. In Brazil, Brasilia and Rio de Janeiro both have their own "pink carriages". Since 2008, in Mexico one can find buses which are "Solo para damas", "for ladies only".
Equally, in Egypt this measure was welcomed as a relief by the 86,5% of women who feel threatened on public transport.
In India, in large cities like Calcutta, New Dehli, or Bombay, a documentary released by the New York Times in September 2009 showed that segregation on public transport had transformed the lives of young Indian girls, in a country where legal brothels "guarantee social peace"...
The symbol of a defeat?
Why does gender segregation stir up such a controversy in our Western societies ? It is worth considering the issues that might arise with such a segregation. One can understand the relief that this separation would mean for some women, even if they regret having to exclude women from "normal" public space just to ensure their safety. One can also question the validity of this "solution", which doesn't try to solve the problem from its source (the perpetrators of these aggressions) and tends to present the male community as predators from whom women have to protect themselves. This segregation could also be seen as the end of a mixed, egalitarian, joint society, ideals upon which developed countries pride themselves on.