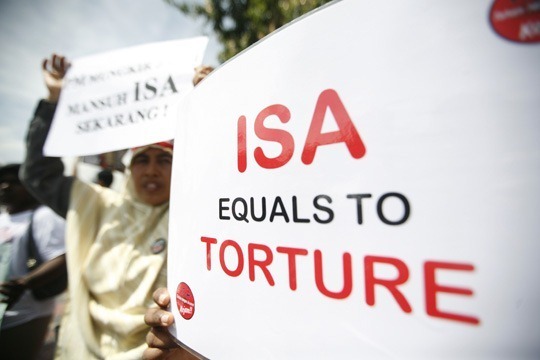 credits REUTERS/Samsul Said
On February 8th, 2013, Yazid Sufaat, his co-worker Muhammad Hilmi and his wife Halima Hussein were arrested. The two men aged 33 and 49 were employees in a cafeteria. They are accused of belonging to the Tanzim al-Qaeda Malaysia terrorist organization, and of having participated to its activities between August 2012 and February 2013. While Yazid Sufaat is charged for promoting terrorism in Syria from Kuala Lumpur, Muhammad Hilmi and his wife are accused of abetting him.

Yazid Sufaat has already been arrested and condemned to 7 years in prison under the ISA in 2001 only on suspicion of being part of the Jemaah Islamiyah terrorist network, which was behind a series of bombing attacks in Southeast Asia, including Bali's 2002 attacks. Yazid was released in 2008. Last May 20th, the High Court of Appeal set the judgment aside and handed down the defendants' acquittal. Judge Kamardin Hashim said he considers the charge against the two men was a misuse of the Court process. Indeed, it seems the SOSMA -under which the defendants were found guilty- didn't apply to the case because it falls within the scope of Article 149 of the Constitution that only rules for terrorist acts that take place on national territory and not abroad.

One week later, the two men were re-arrested, this time not under the SOSMA but in accordance with the provisions of the Penal Code, punishable by life imprisonment. On June 7th, Ampang Court transmitted Yazid Sufaat and Muhammad Hilmi's file to the High Court of Kuala Lumpur. The Court of Appeal, to whom the file of the two defendants was given then, declared that Yazid Sufaat's case needed another hearing from the High Court.

The jury, with Judge Abu Samah Nordin at its head, accepted the appeal process against the decision of Kuala Lumpur High Court to hand down their acquittal to the two accused. According to Judge Abu Samah, the High Court Judge misinterpreted the accusations and neglected the terrorist acts committed abroad, falling within Article 149. As far as he is concerned, threats to national security may come as much from the exterior as from inside the country. So the jury sent back the file to Kuala Lumpur High Court and fixed the next hearing for June 24th. The trial was supposed to be held last June 23rd- but it has been postponed to September 17th by Judge Kamardin Hashim on demand of lawyer New Sin Yew. New Sin Yew represents the accused party and is willing to wait for the result of the appeal.

A burdensome past of authoritarian laws
This case deserves our close attention since it is the first detentions under Malaysia's new security law enacted in April 2012. While showing its defaults, it also unveils judicial power's will to limit them by using less discretionary proceedings.
The new SOSMA law replaced and repealed the former law ruling internal security –ISA- that was first established in 1960 in order to fight the communist revolt.
The ISA was considered as authoritarian giving the fact that it gave powers to detain suspects for a several-year period without any trial, only based on suspicions affecting interior security. Under section 8 (1) of the Act, custody shall not exceed a two-year period but section 8 (2) gets round this limit, allowing its two-year sentence to be renewed as many times as needed, under the same accusations as the first warrant or under brand new ones.

Since its independence, Malaysia has been led by the same coalition, under which up to 11.000 people were victims of this Act, suspected of being Islamist militants or simple opponents. But while numerous Opposition leaders denounced such an Act, none dared to question it once in the government: indeed, ISA was a pretty useful instrument for population control and monitoring.

A vote-seeking reform
Yet, almost two years ago, Malaysian Prime Minister Najib Razak declared the abolition of this widely denounced repressive law. Then, the event was presented as "the biggest change in the Malaysian system since its independence in 1957". Prime Minister pointed out this repeal as a way to "welcome and realize a mature and functional democracy; to protect public order; to reinforce civil liberties and to maintain social harmony", clearly showing his strong wish to combine national security with the respect of individual liberties.

At that time, the Prime Minister's popularity declined while the opposition was gaining ground, and 2013 elections were getting dangerously closer. And here came the promise of new security laws under which any detention shall be motivated by a judicial sentence: the SOSMA.
Nevertheless, the change in the name and the superficial relaxation of the law didn't create illusion. Amnesty International called the law "oppressive" and Isabelle Arradon -Amnesty International's Deputy Asia-Pacific Director- is not afraid to speak out about it "Sufaat and Hasim are being detained arbitrarily under a deeply flawed law that is not in line with international human rights standards", she declared.

It is true that the new security law fails to meet international standards on several key aspects. "This first arrest under SOSMA shows that the Malaysian authorities have just replaced an oppressive regime with another. The two men should immediately be charged with an internationally recognizable criminal offence and brought to Court, or else released.

"The Malaysian authorities should not compromise Human Rights in the name of security. They should immediately revise or repeal the new security law." Isabelle Arradon added. Once again, Najib Razak and his coalition seem to suffer from a lack of political courage. Instead of truly adapt security laws by trying to combine properly security concerns to protection of Malaysian citizens' fundamental rights; they just replaced ISA by a similar law disguised with superficial measures.

The new security law certainly underwrites the right to a fair trial and appeal proceedings. It certainly reduces the initial detaining period to 28 days –period after which general attorney decides whether the prosecution of charges shall go forward or not. It is also certain that the new security law guarantee immediate access to an attorney chosen by the suspect. But still, it allows the police to place suspects in custody for 48 hours incommunicado -increasing the risk of torture- and to keep them in prison for a 28-day period without prior access to Court.
In addition, despite the law authorization to access to an attorney after 48 hours, this access can be postponed during 48 hours if a police officer judges it more prudent. That was the case for Muhammad Hilmi for more than one week after he was arrested.
The stiffening of authoritarian laws
Terms used in the new law neither forecast anything good for the future. The definition of a security offence is particularly vague since it is described as "action […] which is prejudicial to public order in, or the security of, the Federation or any part thereof," –which leaves a relatively substantial margin of interpretation to executive power.

Moreover, amendments of the Penal Code, coming along with SOSMA extend the list of security offences. Therefore, "any activity detrimental to parliamentary democracy" is now considered a security offence, making the printing and distribution of documents opposed to the government a threat to national security. SOSMA also put citizens' individual protection at risk by giving to the police -and not to the Judge- the power to intercept communications as well as to keep secret witnesses' identities in a case, which prevent cross-examination.

Eventually, the new security law maintains the possibility to detain someone indefinitely only on a basis of mere suspicion by initiating appeal proceedings since the suspect cans remain in prison or in police custody as long as appeal proceedings goes on. The case of Yazid Sufaat and Muhammad Hilmi's underlines a serious issue by putting in the front line liberty killer risks lying within the new security law. Regarding individual freedoms, where does the Malaysian judicial system is situated today?

It seems that these security laws are seriously undermining democracy and the judiciary's reliability – going more and more authoritarian and arbitrary. In Malaysia, between twenty and forty people are thought to be still detained without charges or access to Court under former ISA.
However, the coalition that has the power since 1957 narrowly won the elections on last May 5th, and a real will of change is shared today by Malaysian population, especially among young people who claim more transparency in the political system.

Yet the population doesn't hesitate to denounce the authoritarian laws that Prime Minister Najib Razak promised he would make more flexible. A deep reform of security laws – and firstly of SOSMA- is becoming a priority in a country which is, from now on, considered as developed and whose democratic conscience is wide awake.