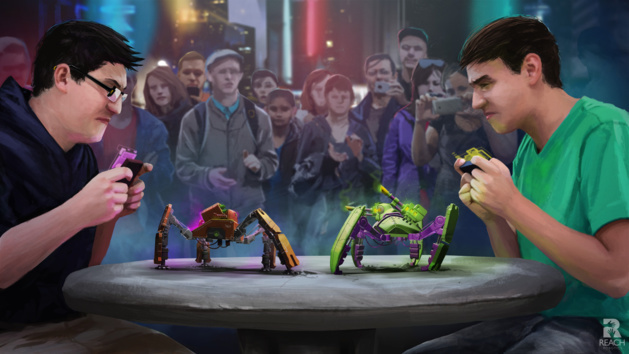 Credits : Reach Robotics
On Thursday, July 2nd, during the second day of the Innorobo conference, the start-ups competition took place, which annually awards the most ambitious and innovative robotics companies. In order to claim the title of Innorobo's best start-up, each company must have been running fewer than five years and received under one million euros of total funding. At the 2015 program, the finalists represented various sectors of the robotics industry.
From the medical micro-robot to the ultra-resistant drone, the inventions compete over potential and inventiveness. According to Adekunle, "Each facet of robotics counts", and the fact that the jury awarded the prize to a start-up oriented towards gaming and entertainment shows a growing interest in an aspect no longer to be neglected in robotics: the power to push the limits of imagination.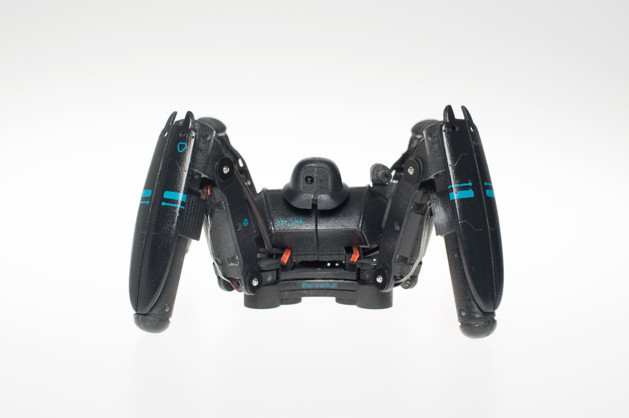 Credits : Reach Robotics
A dream come true
The aptly named Brute and Berserker are the first prototypes that Reach Robotics will launch on the market. These lightweight robots worthy of a sci-fi film will be remotely controlled via a smartphone application. "The more you have them fight, the more they change". With every match the player can advance in levels of experience and upgrade his Mecha Monster's attack and defense mechanisms and speed.
Brute and Berserk can also be personalised. Thus, it is up to the player to equip his robot with accessories as one would in an online game. The whole appeal of Mecha Monsters nonetheless lies in the absence of a screen-based interface. Mixing mechanical prowess and computer skills, they anchor the widespread practice of combat in the sphere of reality.
When asked if he sees any link with ancestral animal combat, when opponents used to set cocks, dogs or badgers against each other, Adekunle's reply is formal: "Nothing to do with it (…) because robots are an extension of the player who controls their movements and who does not feel pain. We try our utmost to stem the attachment that some owners have to their Mecha Monster, in order to avoid any emotional dependence".
"This is not artificial intelligence". This new game does not present any risks of deviant violence and is the physical incarnation of what fighting game fans already do on their consoles and computers. In fact, it promotes direct social interaction and an undoubtedly realistic experience.
The concept's evolution will depend on fans
For now, the game's rules are simple: the robot has a life bar which changes according to the strikes that it receives, its power and extensions acquired from experience. Once dead, the robot loses the fight. "One thinks that the concept will evolve as the players face each other. New rules will eventually appear, once certain actions are considered as cheating".
The smartphone application transforms the phone into a remote control and allows the player to choose his attacks during combat but to also change the robot's profile of digital properties. Through this application, players also are rewarded upgrades for experience: greater speed, power, etc.
The game's physical aspect raises yet another question. What happens when damages exceed a mere deduction of points and a robot is harmed? "Indeed, they are probably going to break sooner or later", says Adekunle. "For such cases, we have foreseen parts specifically made for easy replacement. The player does not need special robotics skills to change the affected parts and he can easily get replacement limbs."
Hence, his concept opens a whole universe of possibilities for a future robot combat market, in regards to robot repair but also everything connected to modifying robots' appearance and derivative products. It is in this area that Reach Robotics has an advantage over other start-ups: according to jury member Anastasia Emmanuel, "They have their own brand".
A prototype created in a student's room
"It all began when I was a student. I had constructed a robot prototype that I took everywhere with me to seek funding and to develop my idea". During that time, five years ago, Adekunle met his future collaborators and highly experienced graduates in robotics John Rees, Chris Beck and Arnaud Didey. Since then, the team adopted Jonathan Quinn of Cardiff University. To develop the project, they had to apply for many grants in order to receive funding.
The five colleagues plan to develop the robot combat market very soon. "2016 will be the year that fighting robots appear", assures Adekunle. Faced with ever-increasing demands in the area of video games, their plans will likely come true. The price of Brute or Berserker would run around $150, fulfilling one of Reach Robotics' main goals: to put robotics in the reach of amateurs. "We are very happy to be currently recognised in France thanks to Innorobo's prize". Adekunle thus ends the interview, illustrating the international growth of his project.