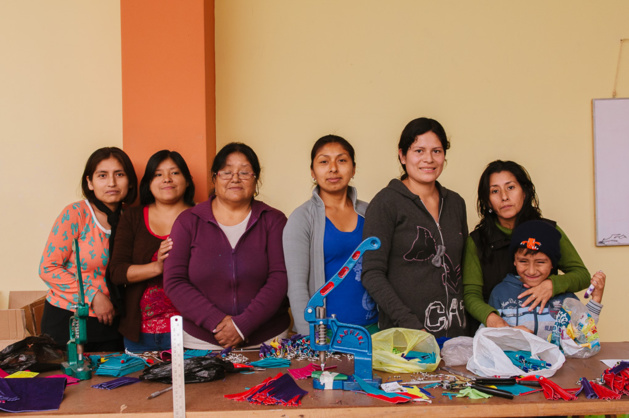 The team in charge of the Puriy project. Credit Sylvain Godoc
The most striking things when entering the office of the NGO situated in Miraflores, the business centre of Lima linked to Villa El Salvador by the only subway line in the country, are the small team and workings space. A team of only 8 members accounts for the body and soul of the NGO that works everyday to ensure the wellbeing of the children and women in the southern neighbourhood of Lima. This way, Padma is among the NGOs that act in a localized area, unlike global NGOs that often work with local branches such as Greenpeace.
Like in many other parts of Latin America, the situation in Lima is very concerning. One must remember that it is the most unequal continent, as reminded by president Humala at the summit of the Pacific Alliance in Paracas on July 3rd 2015. Numerous speeches were made and many promises of change made by the leaders were never kept. In order to change the factual situation, anyone can decide to act. This is what Padma decided: to act on their own scale to change things in a small part of the continent. This is also what their name reflects. Padma means lotus flower in Sanskrit; this plant that has its roots growing in the mud of lagoons and its flowers blooming once they reach the surface. This way, Padma has given itself the objective to give people in Villa El Salvador living conditions they are worthy of by getting them out of their issues. For this, the NGO acts in different ways.
Various projects with a strong base: psychological support
Latin American culture is still very tinged with machismo and inequality between the sexes that is acknowledged by local populations. Domestic violence, whether it is physical, sexual or psychological, is rampant. According to criminologist Jaris Mujica, it even accounts for most of the forms of violence in Peru. Too few women talk about it and report the violence of their husbands that also has an impact on their children. And it is on the family level that Padma acts, offering psychological support from its office in Villa El Salvador, where professional psychologists take free appointments of victims of domestic violence.
Moreover, Padma acts in a pre-emptive way in order to prevent violence. The NGO organises workshops and debates dedicated to students, parents and teachers in various middle schools in Villa El Salvador in order to encourage calm relationships at home. For these activities to be well received and efficient, collaboration is made with local actors: political, religious or associative.
Thanks to this cooperative strategy shared by most of the NGOs, the organisation, which has been active since 2012, has managed to impose itself as a genuine actor of change in Villa El Salvador. The psychological consulting room has a lot of work and the workshops attract a large number of participants. However, in order to keep organising these activities, Padma needs hands and money.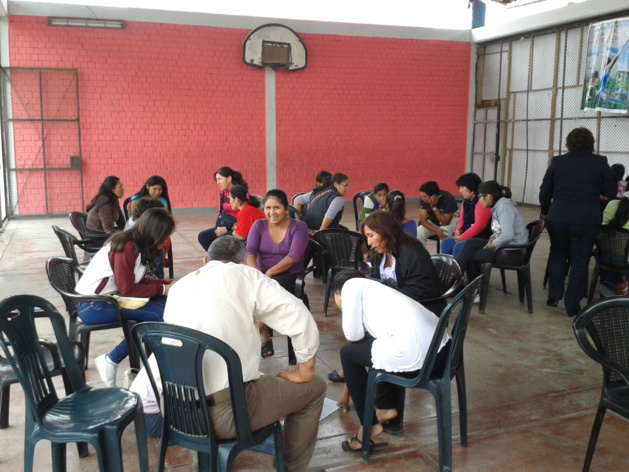 A workshop with parents in the school of Villa El Salvador. Credit Sylvain Godoc
Concerning the workforce, the NGO put Natalie Meza in charge of recruiting volunteers who are essential to Padma's activities: whether they are temporary like the charity fair organised every year or on a long-term basis by looking for psychologists-to-be to help Villa El Salvador. As for the money, Magda Piscova is responsible for communication in order to negotiate with companies. Furthermore, as a fundraiser, she tries to always obtain grants from powerful institutions such as UN Women.
Occupational therapy, or how to mix psychological help and social involvement
Another aspect of Padma's work is to carry out the Puriy project, which is currently in development because of Padma's funds but could one day allow the financing of the whole NGO. In concrete terms, Puriy is primarily an occupational therapy. Its aim is for the participants to start accomplishing something. Here, Padma's team offers a training program in making baby shoes and key rings for women in need in Villa El Salvador. Once the training is achieved, the social company hires them in their workshop, in a place lent by the parish of the neighbourhood.
All of these women have experienced domestic violence and are sometimes still victims of their husbands. The workshop allows them to have a salary and an occupation, and helps them reach economic self-sufficiency. Their duty is made easier by a day nursery where their children are taken care of for free in exchange of help in communication offered by Padma.
The products made by them are of good quality, handmade from leather. Each pair of shoes goes with a tag with a photo and description of the woman who made it. For instance, Olinda tells us "her dream for Puriy is for there to be more work opportunities, more orders from overseas so there would be more work. Yes, so more women would come, so they would progress too, so they could have money for their family and they could help their children to educate and outdo themselves. So their children would have no divided families. We all arrived here with problems… I want everybody to have jobs so we can help the children to be better than us".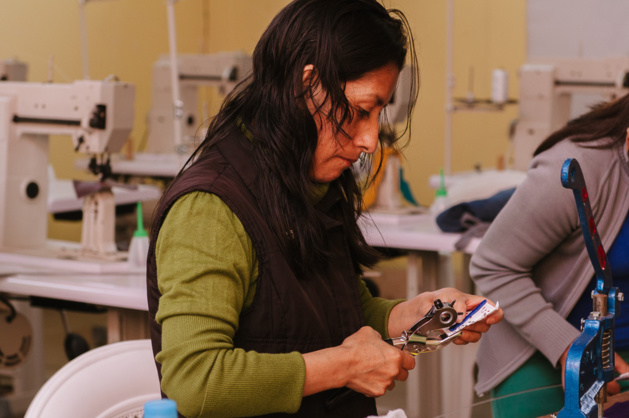 In the workshop during the Puriy project. Credit Sylvain Godoc
These women, most of whom had to stop their school education at the end of primary or middle school, have high expectations. The needs in the workshop are just as significant. For instance, buying or being donated a microwave or a stove is an urgent request of the workers who have so far been eating their meals cold.
A mission to follow or to continue…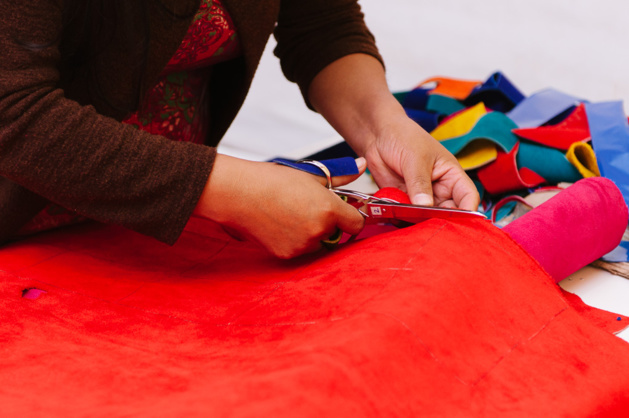 Credit Sylvain Godoc
Liesbet Willems, executive director of Padma, and her team have managed to give hope to Villa El Salvador. This way, their localized mission helped healing the wounds of a society eroded by inequalities. Today, the Lima NGO's challenge is to survive. For this, it needs funds. These might one day entirely come from the sales of baby shoes of the Puriy project that will soon be launched in France. Until then, Padma's missions and projects, as well as those of other NGOs in the world, will remain financed by private donations, grants from companies and institutions obtainable by request.