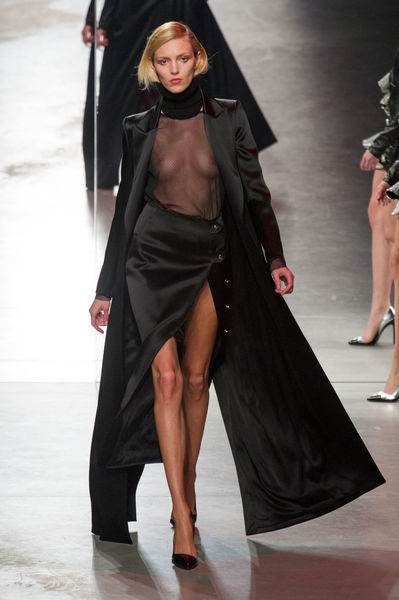 © Imaxtree
Anthony Vaccarello is an Italian-Belgian designer, now considered to be part of the European fashion avant garde. When Anja met Anthony, she fell in love with his clothes, which are risky-sexy yet perfectly balanced at the same time. Rubik supported him from the very beginning wearing his projects for the world's biggest fashion events (a famous white dress with a slit up to the hip bone that Anja wore to the MET Gala in 2012 and that was widely commented upon by all fashion websites).

Last week Vaccarello was presenting his ready-to-wear Fall/Winter 2014-2015 collection at the Palais de Tokyo in Paris. Being Vaccarello's friend and muse, Rubik closed the show wearing a floor-length satin silk coat, a translucent top and no bra underneath. Only a few days later Rubik's 25 magazine was kicked off the Instagram without any warning for posting a screen shot of style.com homepage featuring model in Vaccarello's final look.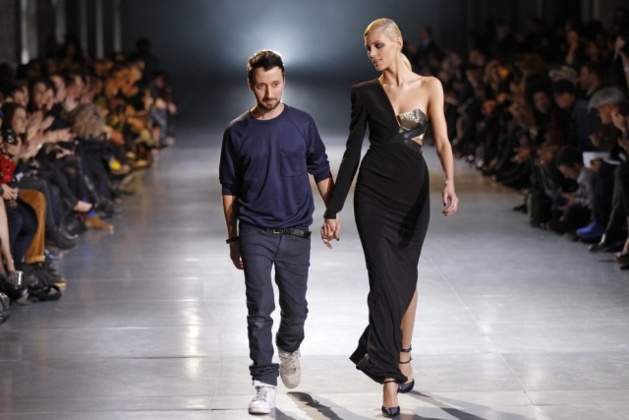 © Reuters
Knowing Instagram's restrictions, Rubik was very careful, especially since it was not the first time the model's social profile was down. Last year it was when the Polish model had posed for Givenchy and Christian Dior and then had been thrown off Instagram immediately after sharing some racy snaps from these photo shoots online. In an interview for Style.com, Rubik didn't hide her frustration: "When you look through Instagram, there are so many crude, vulgar images, which are apparently fine. But when you post a beautiful body of a naked woman, which is the most natural thing that can exist, then we have a problem. What's the worst thing that will happen? Even if it's children flipping through, why should they be offended by a breast? Especially if it's photographed or shown in a very natural way that's not vulgar".

Rubik relaunched the profile informing her Twitter followers: "I have been kicked of Instagram for inappropriate posting. Here is my new account. Dear Instagram and to all followers: "DON'T FEAR THE NIPPLE!!!!!!!!!!!!" The phrase became Rubik's thing and back in November the model created T-shirts around it to celebrate the latest issue of her magazine 25. "It's all about empowering women and being comfortable with your body and your sexuality. Anyway, I guess that image triggered a lot of reports, which is why the account was closed", she explained.

This fear of the female naked body is much more visible in the United States. Anna Wintour would never allow showing naked breasts on the pages of American Vogue even if photographed by Patrick Demarchelier or Mario Testino. There was also Anne Hathaway who had to apologize because we could see the outline of her nipples through her pale pink Prada gown worn during last year's Oscar ceremony. Europe however, tends to be less prude but according to Anja Rubik American prudishness is spreading also in the old continent "which is ridiculous because when you turn on the TV—a reality show—you're faced with so many vulgar images. That's what should be censored and not allowed", says the model.
If there is one thing that Anja Rubik would like to say to Instagram or to members of the general public who fear the nipple it would be that: "they should wake up. We're going backward—way backward. Instead of celebrating our bodies and moving forward and exploring our sensuality, we're blocking all these things and making them shameful. And to the people who don't like these images and report them on Instagram, just don't follow us. It's very simple".