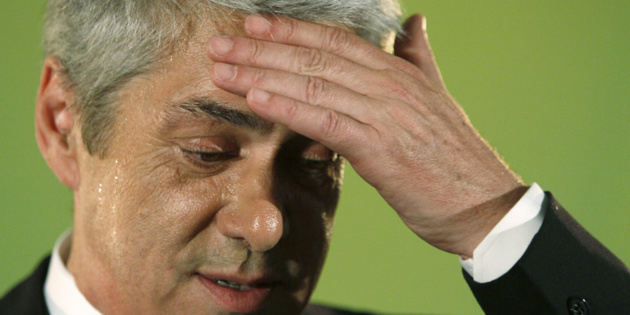 Crédit DR
Cases of corruption emerge constantly, even in the so-called most developed and democratic of countries. Politicians embezzling money is nothing new, and Portugal is no exception. The difference is that in this country, those cases are following one another constantly, and the crisis is only making the situation worse. Irregularities can be found everywhere, even on some politicians' résumés – as for example the former Portuguese Prime Minister Miguel Relvas, who obtained his degree illegally.
José Socrates: when the Prime Minister was arrested
José Socrates, Prime Minister for 6 years until 2011, was arrested on Friday 21th November for corruption, money laundering and tax evasion. It was the first time since the revolution that a politician this important was arrested in Portugal. The former governor had 20 million euros kept in a Swiss bank account. He was suspected of having managed to bring his money to Portugal thanks to the self-approved Extraordinary Procedure of Reliant Regularization, which was implemented during his mandate in 2009. This procedure allows a revision of the tax treatment, that is to say a kind of tax evasion pardon. These accusations are currently being processed; however, they are consistent with Socrates' lifestyle which is much higher than his income allows it to be. His 2.8 million euro flat in the luxurious 16th district of Paris is particularly suspect.
For now, the investigation is still in progress. Since then there have already been three habeas corpus – a principle according to which if someone is arrested they have the right to know why and what they had been accused of, and then can be released on bail and brought before a judge in the following days. The first of these habeas corpus applications, initiated by a citizen, had been turned down by Supreme Court judges, since there had not been any abuse of power and since the ex-Prime Minister was legitimately imprisoned. Another citizen made the second application, which has not been taken into account either because it did not fit the usual norms of an official application. The third one was made on Tuesday 9th December by a businessman denouncing a plot concerning some politicians. This application was also unsuccessful; the court has reminded once again that there had been no violation of any kind during José Socrates' arrest.
In any case, as the university Professor Paulo de Almeida Sanda says, those kind of affairs, whether it is Socrates' or João Vale e Azevedo's one (a Portuguese lawyer who laundered money and was arrested last year) are only the tip of the iceberg. These cases are recurrent, and a lot of powerful people are involved in them.
Golden Visas: when corruption becomes obvious
Golden Visas are given to foreigners intending to reside and, especially, invest in Portugal. Since 2012, when those visas were created, 972 million euros were invested in the country. The main beneficiaries are the Chinese, who represent 80.5% of the 1775 people obtaining this visa so far. It must be taken into account that these numbers tripled in 2014. The only way to get a golden visa is to buy a property in Portugal that costs at least 500,000 euros, by capital transfer or by creating ten jobs. With this last option, only three people obtained their visa.
Most visas were indeed obtained by the purchase of a property, of which the price has supposedly been increased by Antonio Figueiredo, head of the Institute of Registries and Notaries, and Maria Antónia Enes, the Secretary General of the Justice Ministry. Both knew the real estate prices and are accused of having increased them in order to provide the investors their visas quicker and obtain their share. They may have opened an account in the bank where Figueiredo's cousin is working, specially for laundering that money. All of this remains possible, considering that Manuel Palos, the head of the frontier police agency, may have turned a blind eye to this affair for a commission of 10%. This only represents a small part of the network, as 14 people – among which a Minister, a secretary general and some businessmen – are under inspection for now. All of those connections form a labyrinth, which has given the investigation its name.
Banco Espírito Santo: when the most important Portuguese bank collapses
In 2012, the BES (Banco Espírito Santo) concealed debts worth 1.2 billion euros. The damage has cost 2.5 billion euros. The bank then declared not paying off an 897 million euro loan of Portugal Telecom, the biggest telecommunications operator in Portugal. It has to be kept in mind that nowadays the bank holds more than 10% of this company's shares, which was privatized in 2011. In the same way, the Espírito Santo group, which includes this bank and other national investments, had incurred debts with two other prominent Portuguese banks. As a consequence, the BES collapsed and the Banco Novo was created, at the same time that the Bank of Portugal realized there was an irregularity in the payments. The Financial Tmes decided to dig a little deeper into this case and then hypothesized that the BES may have given money to a bank in Panama, which would have been created specially to purchase the Espírito Santo International debt. There may have been a plot to illegally lend money to their own subsidiary. Besides, the bank and its president are currently involved in five different investigation cases.
It is no longer surprising to see so much corruption in a country where, since the current government is in power, four ministers have officially resigned – two of them because of polemics regarding corruption, and the other two because of a disagreement with the government – especially when said government collapsed twice, had to be rebuilt and was taken under the Troika rule.