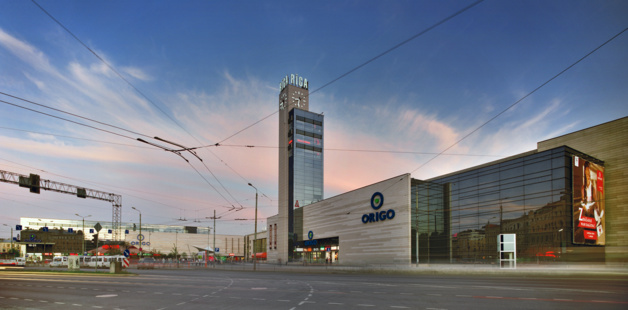 View from Satekles Street. Credits RR
Upon arriving at the city centre by way of Satekles Street, one's attention focuses on the gigantic, New York-style animated billboard and the tall, modern clocktower wreathed by the word "Riga". At the bottom of the clocktower one sees another building, just as modern, which stretches along the whole length of the street. Its façade is made of mirrors and a material textured like wood. In round, blue letters, the word Origo hangs above every entrance. Origo is the name of a shopping centre which includes a cinema, a supermarket and various specialised stores. Welcome to the new Riga, a term designating buildings completed since Latvia's independence in 1991.
Soviet influence, or the "antimodel"
On the flip side, old Riga, meaning the buildings completed during the Soviet occupation (1944–1991), has a very different appearance. Orthodox churches remain majestic, but they are an exception in view of the city's peripheral architecture. The farther one moves from the city's historic centre, the more buildings resemble characteristic Russian HLMs (Habitation à loyer modéré; French public/private housing units). Streets like Bruninieku are simply framed by these fairly low but gloomy units. On the contrary, new Riga prefers high-rises that reach the sky. This part of town is under construction and has adopted Western architectural codes which favour height over width. The city's highest skyscraper, a bank measuring 121 metres high, is located in this area.
Alongside these architectural contrasts exists a linguistic one between the Russian and Latvian languages. Russian uses a Cyrillic script while Latvian uses a Latin-based script. The latter has always been the vector for Latvian identity throughout different occupations. Since its independence in 1991, Latvia requires knowledge of Latvian for citizenship, essential for the right to vote. Russians who settled in Latvia during the Soviet occupation and who do not speak Latvian thus remain stateless and cannot vote. This minority represents over 12% of the Latvian population and is strongly supported by Vladimir Putin. In the streets of Riga, speaking Russian to a shopkeeper is not welcome, even though a large majority of Latvians understand and speak Russian. Some nightclubs like La Rocca—on Brivibas Street—are often considered more "Russian" than "Latvian". This club's website even claims itself as "the city's most popular Russian dance floor", writing all in Russian on its Facebook page.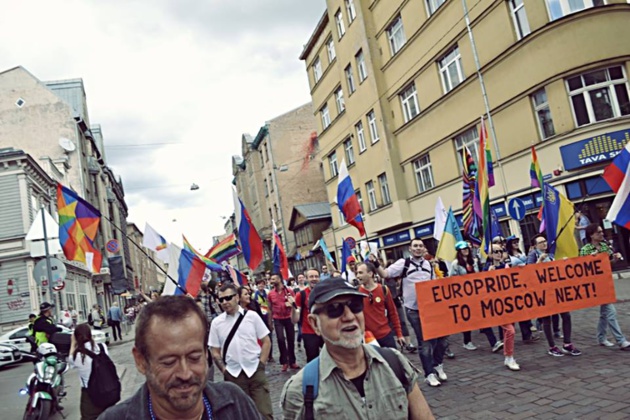 Gay Pride Riga, June 2015. Courtesy of Julija Stancevičiūtė
The Russian-Latvian language split generates more or less sharp contrasts in Riga. Of course, no one should regard this as black and white. Russian speakers and Latvians are not at war in Riga. However, certain tensions are felt when politics, ideology or even ethics are in question. Even though Archbishop of Riga Zbigņevs Stankevičs declared in October 2014 that "homosexual relations are against nature", that did not prevent the capital from hosting EuroPride that summer. There was every reason to fear a catastrophe in view of Riga Pride 2006, which met with violent resistance: participants were the target of eggs and human excrement. Nonetheless, beliefs seem to have evolved, since, this year, no such accident has been reported.
In reality, the split can be explained from a generational angle. Until 1999, the Soviet Union considered homosexuality a disease. Lativa, a Soviet republic until 1990, therefore supported this premise until its independence. It was not until after 1990 that Latvian-born youth could grow up without this authoritarian law. The current generation thus appears less concerned with its changing beliefs than its predecessors. While Russia was voting for a law prohibiting transsexuals from driving in 2015, EuroPride Riga proved to be highly successful.
Wealth and poverty
Beyond ideological splits, wealth and poverty also clash in Riga. There are beggars, tourists, even models. The city is indeed reputed for its beautiful woman and modeling agencies. However, next to blond models balancing on their stiletto heels, there live many beggars, primarily in the tourist streets of the Old Town. Tourism, increasingly important over the years, certainly contributes to the economy, but not enough to eliminate poverty. Young tourists generally stay in youth hostels or, if they can and want to, in hotels. Off season, the Radisson Blu Hotel runs at 199 euros per night, including services. Tourists do contribute to the city's economy but do not resolve persistent causes of poverty.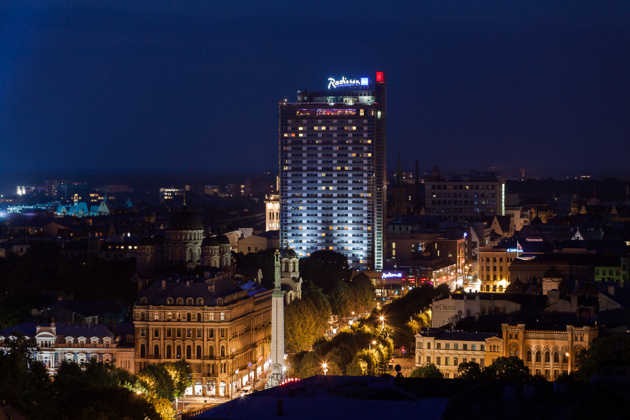 The luxurious Radisson Blu Hotel Riga. Credits latvianchamber.co.uk
The contrast between poverty and wealth further shows in architecture, lending to Riga's seemingly concentric layout. First, there is the city's historic centre which attracts tourists by its beauty and Art Nouveau style. As one leaves the tourist centre, buildings lose charm and colour. HLM-style housing and community services are mainly found here. Even father away, the city fades into suburbs: homes forms towns. Only religious buildings and parks brighten these somewhat morose post-Soviet urban landscapes. These towns are less compact and stuffy than Parisian or Neapolitan towns, however.
Nature and civilisation
Of the city's numerous contrasts, some are of natural origin. Riga's geographic location explains its contrasting climate. A continental and humid country with no dry season, temperatures run very low in winter (about -5° C to -20° C) and moderately high in summer (about 18° C to 25° C). While the sun sets around 4 pm and rises around 10 am in the winter, it almost never sets in the summer! One always sees a slight dark blue border during the night. The sun does not disappear until around 11 pm, only to reappear at 4 am. The contrast really is stunning.
In any case, nature holds an important place in the heart of Latvians. They officially celebrate the summer and winter solstices. The city itself is divided in two by the broad River Daugava. At 1,020 kilometers long, it starts in Russia's Andreapolsky District and, after a detour through Belarus, crosses Riga and empties into the Baltic Sea. It is the subject of many dainas, or Latvian folksongs. The river chiefly separates the old town of Kipsala, where the most impressive buildings of new Riga are constructed. Either bank has its own identity.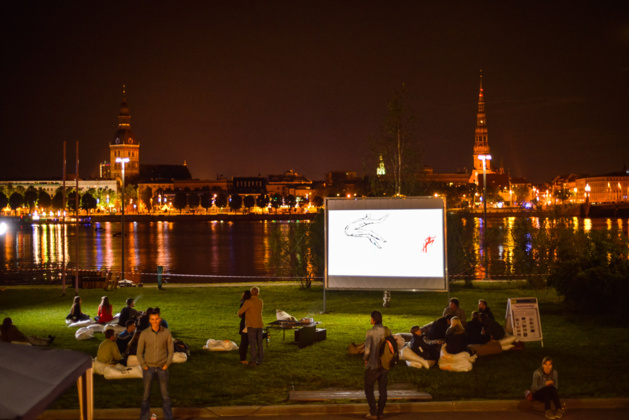 Outdoor projection during the Riga City Festival 2014. Credits screencitylab.net
Finally, in the heart of the city, there are countless public gardens and green spaces. Among the most popular are the Esplanade, the Vermanes Garden, Mezaparks, the trail along the Pilsetas canal, Victory Park and the Botanical Garden of the University of Latvia. This garden is like a breath of fresh air in the urban city. The garden offers games for children, entertainment, artwork, cultural events, etc. As the summer sun shines, Rigans lounge in these parks, taking in a piece of nature. Yet, with an open ear, their city is still there.