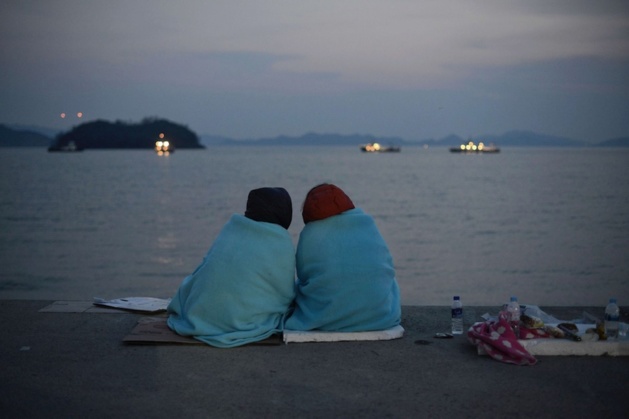 Photo credit Getty
Investigations revealed that the accident was a man-made error, due mainly to lack of safety awareness and training : the Coast Guard was incompetent, rescue operations were delayed, and passengers were requested "to not move from their present location."Despite their great responsability, the captain and his crew left quickly the ship. In addition, the ferry was carrying three times its limit of cargo which directly affected its stability.
This tragic accident is not the first of its kind : similar mistakes were made when a fire killed 192 passengers at the Daegu subway station in 2003, when the Sampoong Department Store collapsed in 1995, when the Seohae Ferry sank off the western coast in 1993, and so on.
Two months have passed since this disaster and the monitoring system has not changed allowing smaller, but none the less tragic accidents to happen : nearly fifty people were killed or injured in a fire at a bus terminal in northwest Seoul and around 200 people were injured by collusion between two Seoul subway trains.
Corruption, an underlying cause of these disasters
These man-made accidents are the direct consequences of the utmost pursuit of profit eased by rampant corruption allowing the persistence of decade-old irregularities, regulatory violations and lack of oversight. They have made it clear that the appointment of former officials is solely based on their loyalty rather than expertise.
Chonghaejin Marine, the operator of the Sewol Ferry, is under investigation for overloading, illegal loans and violations of safety regulations. However, the company is not alone to blame : many safety inspectors and regulators who once served as ranking officials at the Ministry of Oceans and Fisheries are likely to have made corrupt ties with the ministry.
President Park's responses
"Safety, economic revival and people's happiness will not be guaranteed unless we put an end to corruption that is deeply rooted across the society," said President Park Geun-hye. In several occasions, she has vowed to get rid of corruption and cronyism by preventing former officials from taking key positions at state-run firms, regulatory bodies and private companies. She also announced a set of preventive measures and the creation of a safety agency to be solely in charge of safety-related issues and disaster prevention.
However, her first concrete action was to nominate Ahn Dae-hee, a former Supreme Court justice and prosecutor, as prime minister. He was forced to withdraw his nomination over a controversy concerning the 1,6 billion won (1,58 million of dollar) he earned as a lawyer by taking advantage of his previous positions.
Following the June 4 local elections' relative positive results, President Park has renewed her commitment to making Korea safer and corruption-free. The nomination of a new prime minister candidate is expected this week as well as a massive Cabinet reshuffle to support her reform drive and public's expectation for an ethical government.
The Sewol tragedy : a call for radical change
In a roundtable discussion organized by TI-Korea and The Korea Times, Kim Geo-sung, Chairperson of TI-Korea, expressed his concern about the nation's priority to attain economic affluence at the expense of basic human values. He argued that the establishment of a government agency in charge of disaster prevention is not a cure all measure.
Long-term remedies have to be implemented, such as safety and integrity education, transparency in companies' balance sheet, key position appointments and promotions.