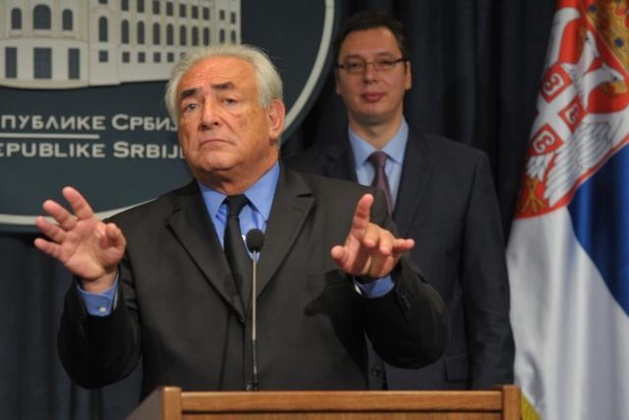 Credits -- Tanjug, Z. Žestić
Politically, morally and economically ruined since the 1990's wars, today Serbia does not seem to be the best candidate for the European Union. At the beginning of the 2000s, when the coalition opposition seized power, the country had certainly been seen as a promising applicant. Some stabilization measures had been set up, thus allowing the country to be back in the IMF. This reintegration in the international community was also followed by its membership within the World Bank and the European Central Bank. Nevertheless, the promise of deep institutional changes was soon paralyzed by the Prime Minister Zoran Djindjić's murder in March 2003.
Today, Serbia's national debt exceeds up to 60% of its GDP. Its unemployment rate is one of the highest in Europe, affecting more than a quarter of the working population. The destabilizing of the balance of trade is one of the country's economic priorities, particularly making the country more attractive for potential foreign investors.

Some attempts to liberalize the Serbian market were led within the last few years, yet they were too precarious so they couldn't offset the important number of big firms that are still under the State's tutelage. The privatization of firms is done in utter opacity and embezzlement, which creates more and more controversy among the political class. Numerous personalities are accused of having - directly or indirectly - corrupted privatization procedures, so that the State is able to preserve its interests and its grip. Three former ministers, eleven former managers of public firms, one director of a public firm and several judges and prosecutors were sued last July. In an interview for Aljazeera, Vice-Prime Minister Aleksandar Vucic declared that at least 115 people could be involved in 24 cases of defrauded privatizations.
A serious and thorough reform of the Serbian economic and financial institutions is considered as a necessity for the current government, which believes it is the only way for Serbia to be able to get out of the slipknot which is suffocating the country.

Filling the shortcomings in the governmental legitimacy
DSK's appointment as financial consultant reveals an attempt by the Serbian authorities to gain more legitimacy on their plan for an institutional restructuration and for economic decisions. The elections held on May 2012 have witnessed the return within the government of ex-members of Vojislav Seselj's radical party, accused of war crimes. It was the first time since 2000.

In a country where political conflicts impede the execution of most recovery programs, appointing experts justifies and gives credit to some decisions. As Ljubomir Madzar -professor at the University of Economics in Belgrade - explained in an interview for the Serbian newspaper Politika, it is easier to overcome political conflicts and bring necessary measures into play if the proposal comes from a world-famous expert. He added that "bitter pills will be more easily swallowed if they're prescribed by a specialist such as Strauss-Kahn. The government hired him, not because they don't know how to make decisions, but because it will be easier to have people accept them if they say: this choice is necessary, it is a world-famous expert's recommendation".

That's for this same reason that Lazar Krstic was officially appointed as Minister of Finance on last September 3rd. He graduated in 2007 from Yale University, with an honorable mention "magna cum laude" in Economics, he is also an expert of economic transition issues in Central and Eastern Europe and he worked for the consultant company McKinsey. His young age and his limited experience in politics have yet made necessary the nomination of Strauss-Kahn to work by his side. However, in an interview for Radio Free Europe, DSK insisted on the fact that his role was nothing more than one of a consultant. "Giving advice is easier to make decisions and implement them, because there, it is a political decision", he warned, as to point out that the most important and delicate task would be the responsibility of the Serbian government.

"Slight panic, here comes DSK"
DSK's nomination as a financial consultant quickly aroused comments, often outraged ones, in the media and social networks. What people make most fun of is the irony of this choice, insofar as the country, which is trying to get rid of its reputation of 'bad kid' of the Balkans, takes on a personality that also seems to be eager to internationally clear his name. Others are outraged about the fact that Serbia does not call its own experts, although it has plenty of them. In an interview for the New York Times, Vesna Pesic, sociologist and former deputy of the Serbian National Assembly, stated her perplexity on such a nomination, by pointing out the fact that this choice is actually not less than an act of political marketing that only aims at strengthening the legitimacy of the governmental decision-making.
Following his nomination, satirical comments on social networks such as Twitter surged ("It will cost us chambermaids and waitresses" -
@AmitzDulniker
; "The Government female employees' husbands slightly panic-stricken. DSK is coming" -
@DragoKovacevic
)
; even though, Vesna Pešić doubts that a true opposition will arise among the population, who was morally worn out by the recession and who is not committed to the political sphere.
In the government, they try to justify their choice somehow. By giving the unfitted example of Picasso, Vice-Prime Minister Vucic points out that the amoral behavior of a man towards women does not interfere with his talent in a specific field. According to him, people should not judge Strauss-Kahn morally, but on his capacity to solve the financial problems Serbia is suffering from.
DSK will be working for free for three months, during which he will give his proposals to the government that will decide about their enforcement. Only then the ex-IMF chief's mandate could be extended.
Translation : Jonathan Trenteseaux. Revision: Amélie Rastoin and Nathalie Macq