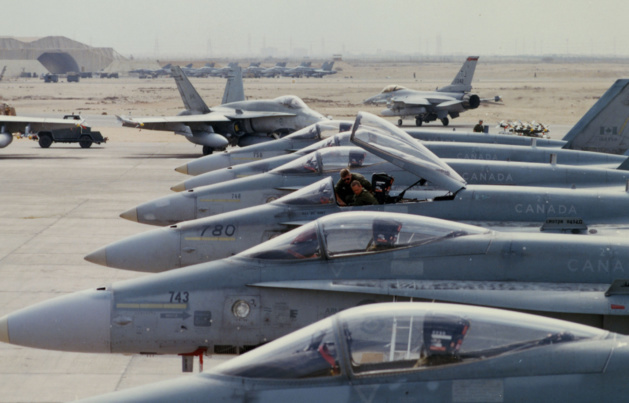 Credit Archives/Christian Coulombe/FAC
Operation Impact, such as it was voted in the House of Commons of Canada, has plans to deploy six CF188 Hornet fighter jets, two CP 140 Aurora surveillance planes, an air-to-air refueling aircraft, as well as 600 soldiers for the next six months, assisting the US-led coalition in coming to the aid of Kurdish Peshmerga and Iraqi security forces. In addition, Parliament Hill will spend up to 15 million Canadian dollars on security : ten million are intended to assist in acquiring material and equipment - helmets, bulletproof vests, and logistical support vehicles - and five million will go towards supporting the regional efforts which are attempting to restrict foreign fighters from entering Iraq and Syria.
Although the House of Commons has voted by a majority in favour of a Canadian armed forces intervention, it did reject the Neo-Democrat amendment which had proposed providing support for transporting military goods for three months and humanitarian aid. For the opposition, a large number of questions still remain unanswered. In fact, the authorities have not published any details regarding the costs of operations or the exact locations which will be targeted by Canadian airstrikes.
With this vote, Canada intends to take a stand against Islamic State alongside her allies, in particular with the United States, her main economic partner. It is interesting to note that, besides the Vietnam War, Canada has taken part in every single American war. Besides, the Canadian intervention today is somewhat reminiscent of Afghanistan, which began in 2001, following the events of 9/11. It should be remembered that at the time, Canada had decided on intervention in Afghanistan without any real public or parliamentary debate. According to Francis Dupuis-Déri, "In the case of Afghanistan, it is tragic to observe that Western powers throw themselves behind the United States into a war which aims to bring down the Al Qaeda network and the Taliban regime, without anyone having any clear idea about what happens next".
Several questions remain unanswered regarding the Canadian military intervention against Islamic State : will the government limit itself, as promised, to airstrikes ? What steps will be taken to ensure the operation is completed within the given timeframe ? Will this not open up possibilities of interventions in other countries affected by Islamic State, such as Syria ? Given that on the 12th of September 2001, the UN Security Council adopted Resolution 1368, which permits attacks on countries suspected of housing terrorist bases.
Humanitarian Aid to be Added to Airstrikes
The Canadian government is not only considering military intervention. In fact, Minister for Foreign Affairs John Baird pledged 5 million Canadian dollars to support victims of sexual violence in Iraq on top of 5 million dollars to help finance an inquiry and bring Islamic State sexual perpetrators to justice.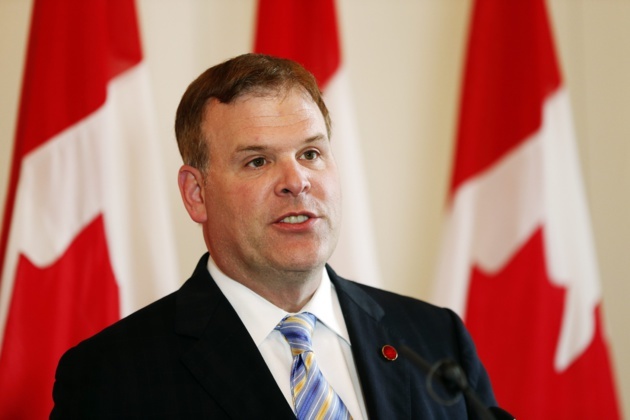 Credit DR
These two budgets will be distributed by different bodies: the Justice Rapid Response and the UN High Commission for Human Rights. Since the beginning of the year, Canada has poured up to 28.9 million Canadian dollars into aid for areas affected by the conflict - 19.4 million into Iraq and 9.5 million into Syria. This aid will be distributed by UN humanitarian bodies, by the International Committee of the Red Cross and other NGO partners. In concrete terms, this aid aims to respond to urgent needs such as health, shelter, protection, education and food. Thus the type of humanitarian aid that Canada has adopted sets out to meet short-term needs as much as to prioritise long-term stability and prosperity. In addition to this financial aid, Canada will participate in an evaluation mission along with the Untied Kingdom, which will set up an initiative to help victims of Islamic State crimes.
The shootings in Ottawa and Saint-Jean-sur-Richelieu : Plausible Repercussions
In the space of one week, Canada experienced two tragic incidents inside her borders. On Monday 20th October, Martin Rouleau, publicising himself on Facebook as radical Ahmad LeConverti (Ahmad the Converted), deliberately hit two soldiers with his car in Saint-Jean-sur-Richelieu, Quebec, before fleeing the scene and then succumbing to his injuries. Even though Quebec State Security are appealing for caution before preemptively calling it an act of terrorism, the political reaction was quick to affirm a possible terrorist attack against Canadian Forces and link it to the Iraqi project. As for the American authorities, they immediately increased their security following the attack against the two Canadian soldiers.
On Wednesday 23td October, three gunshots in Ottawa threw Canada into disarray : The first shot at the National War Memorial, the second in front of the Canadian Parliament, and the third inside the Parliament building. These shots killed two people: a Canadian Armed Forces soldier and the main suspect of the incident - shot by Sergeant-at-Arms of the House of Commons, Kevin Vickers. But although the instigator of the shootings, Michael Zehaf-Bibeau, was killed, there is still confusion over the exact number of suspects who might be implicated. In reaction to the shootings, Canadian military bases have become closed off to visitors and have doubled surveillance measures. Members of the Armed Forces are no longer allowed to go out publicly in their uniform, except for operational needs.
Federal and provincial governments are working together on inquiries, but they are still unable to ascertain whether the attacks were carried out on an individual basis or as part of a group. Nevertheless, it is important to note that according to the US Department of Homeland Security, there may be an increase in propaganda that encourages low-level attacks against Western Forces who support the intervention in Iraq and Syria.