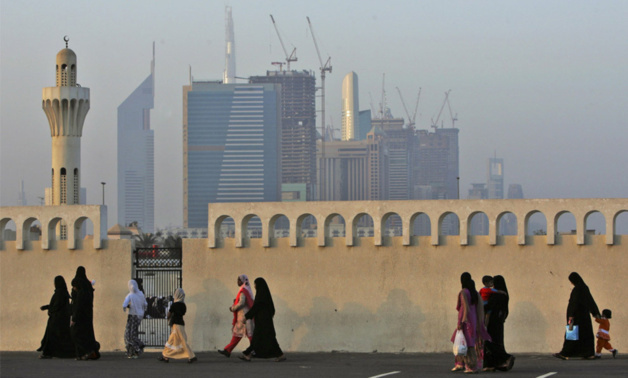 Crédit photo -- AP Photo/Kamran Jebreili
Located between Saudi Arabia and economically advanced centres in Western Europe, the UAE has tried to place Islam back at the core of an everyday life made of gold and asphalt. It is precisely since the beginning of the crisis, which has also hit this wealthy micro country, that Islam has become more acute in recent innovations. Therefore, the Islamic Bank
Al Hilal Bank
created a new type of MasterCard which includes a compass pointing the way to Mecca - the
Qibla
. The compass allows the cardholder to orientate themselves towards prayers five times a day. The new bankcard also complies with Islamic Shariah law. This type of card is unique in the world of finance, but now that Islamic finances are internationally recognized, banks must intensify their efforts to attract clients looking for economic stability after the crisis.
In a bid to promote the UAE's Muslim identity, the Roads and Transport Authority (RTA) also launched "Read and Elevate" in 2012, a program aimed at helping employees become proficient in reciting and memorising (
tajweed
) the Koran. Dr Aysha Al Busmait, Head of the National Identity Team at RTA Administrative Support Services Sector, explains that
"the religious faith in human beings contributes to their advancement, development, and nobility, and makes them helpful and distinguished"
. Thus, this program offers two hour and a half learning sessions every morning. However, these sessions are not compulsory.
Furthermore, Dubai is to open a new theme park honoring Koran by 2014. A new architectural ambition for this city used to exceptional skyscrapers. Located in the middle of the desert, the park will include all available plants mentioned in the Koran along with facilities such as an air-conditioned tunnel depicting events from the Koran. The total cost of this project is estimated around $7.3 million. After having succeeded in attracting Western clients, the UAE is now trying to attract Muslim ones.
What's more, Islam will certainly expand to hospital services as a complete separate medical practice recognized nationally. Indeed, clinics want to offer victims of witchcraft or possession treatment with
Ruqya
(an Islamic healing modality that uses verses of Koran for healing). The institutionalization of this practice, which already exists in Pakistan, was proposed by a member of the Federal National Council to the Ministry of Health and will be reviewed shortly.
Finally, there is a wide range of recent projects aimed at placing Islam back at the very heart of people's everyday life. However, people should keep in mind that the UAE is experiencing a loss of identity as proven by the "Good Eloquence" Initiative adopted by the government, in a bid to maintain the UAE's national identity by advocating the use of Arabic language. This initiative also includes religious programs.