Pennsylvania State University listed 84 cases of sexual assault between 2010 and 2012. Credits Penn State Archives
Preventive measures: a main topic on universities' agenda
However, despite this alarming observation, universities are first in line when it comes to organizing preventative measures toward sexual assault. Beyond the fight at a federal level, universities are seriously trying to tackle the problem before it actually becomes one by increasing the amount of preventative measures and campaigns.
At the University of North Carolina at Greensboro – a public university – every student must follow a two hour-long online course about the prevention and definition of sexual violence. Despite the fact that the course sometimes lacks realism, the university is really trying to push the students to talk to one another about this issue and especially clarify the concept of sexual assault, which remains unknown to too many students. The course places great emphasis on the notion of mutual consent.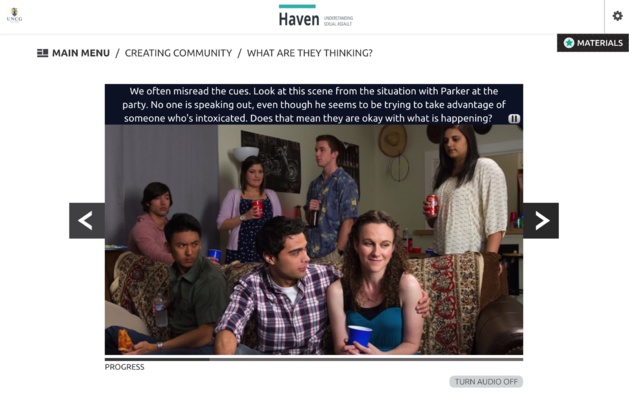 A screenshot of the online course taught by UNCG
Generally speaking, the budget allocated to the whole country for the prevention of sexual violence has considerably increased. The government is also fighting this issue nationwide by releasing funds to universities so that they can intensify their efforts as well as increasing the number of people assigned to the prevention task.
The universities' lack of action against offenders accused of sexual assault
Despite the prevention made by the universities, the situation is alarming when it comes to repression. Too many victims of sexual assault are being ignored by universities and the perpetrators are often left unpunished. Most of the time, universities think that they have more to lose than to gain by reporting to the police sexual assaults because it may tarnish their image. This is the case when it comes to certain categories of students.
The case of the NFL player Jameis Winston raised the issue of student athlete immunity. In 2012, the then Florida State's quarterback was accused of sexual assault. His university, as well as the local police, decided to ignore his victim's allegations and her call for help up until the player left the university. It is only once he left the education system that criminal charges were filed against him – he probably won't be be tried until 2017.
This case brings a larger problem to light. Student athletes, who represent 3.3% of the university population, could –
according to many studies
– be at the source of 19% of sexual assaults on campuses but would be convicted in only 38% of those cases.
Real public image of their universities, these students are like golden geese. Besides representing their universities at competitions generating millions of dollars, they are also a significant source of funding for universities as many of them make major donations to their former universities during their careers. Last September, Golden State Warriors forward Draymond Green made a $3.1 million donation to the Michigan State University.
In addition to the fact that student athletes have gone unpunished, this is also the case within some fraternities that are often at the heart of controversies. Here again, schools consider that it is in their best interest to cover these upper class university students, as they are highly profitable for them.
Jameis Winston next to his lawyer. Credit AP Photo/Don Juan Moore
There is a somewhat rational explanation to this unfortunate fact: the U.S. university system is based on schools, which are run like businesses. Therefore their first priority is to protect their corporate image in order to attract as many students as possible who are willing to pay tuition fees as high as $50,000 a year. This constant desire to promote universities and to advertise them is being done at the expense of helping and supporting victims.
Universities implicated in the liability of sexual violence
Due to the lack of reaction and support from universities towards sexual assault victims, 2 female students at UNC Chapel Hill in North Caroline decided to act. In January 2013, Annie Clark and Andrea Pino both took their universities to court, basing their action on the title IX of the Education Amendments of 1972.
This amendment ensures that the university will be liable in case of discrimination or differential treatment towards their students. Sexual assault victims can claim compensation from the moment that the university did not provide help when required. Annie Clark and Andrea Pino then created the IXNetwork movement and have been traveling across the United States for more than 2 years in order to support student victims of sexual assault and accompany them during legal procedures.
The documentary film
The Hunting Ground
– official selection of the 2015 Sundance Film Festival - tells the story of the
IXNetwork.
Ironically, the film has been widely broadcast by U.S universities as part of this year's preventive campaign.