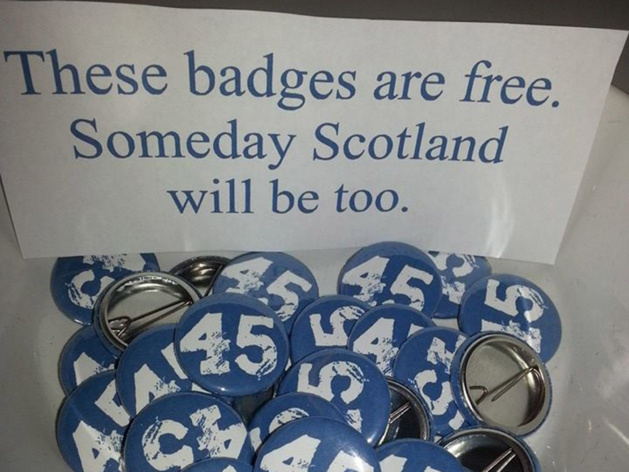 Credit DR
On September 19, Scotland made headlines by rejecting independence with 55% voting "no," meaning it will remain a part of the United Kingdom. This came as a relief for many well beyond the borders of the UK, but as predicted, the issue is still being debated. The day after the results emerged, Scottish National Party Leader and First Minister of Scotland Alex Salmond unexpectedly resigned. Paradoxically, his resignation seems to have breathed new life into the independence party, as the number of SNP members rose from 25,000 to 70,000 in just a week.
Apart from the SNP affiliation, it was a sense of bitterness that led some of the 'Yes' campaign supporters to continue pursuing their objective. By taking advantage of grassroots campaigning and the influence of Twitter and Facebook, a movement called 'the 45%,' in reference to the 44.7% who voted in favour of independence, spread like wildfire on social media after the results came in. According to British daily newspaper The Independent, it's nothing more than a new Yes campaign. Are 'the 45%' just a revamped version of this campaign ? Instead of using the word 'campaign,' which implies a limited period of time, advocates of independence prefer to use the term 'movement.'
Credit Steve Cox
And what movement there is : supporters have given out badges at every turn, offered "twibbons" to Twitter users, and created Twitter and Facebook pages dedicated to the cause. Even if the movement is rather quiet on the streets, it is more than active on social media, as its Twitter account has 4,300 followers and more than 175,000 people like the Facebook page "We are the 45%." According to organizers, a website and a YouTube channel are currently in the works.
Bitterness and disillusioned days to come
But a sensitive question remains in the wake of the vote. After such a disappointing outcome to their campaign, will the 45% manage to keep their sense of tolerance and pacifism, which were a driving mentality behind the referendum for the past month ? A non-official Twitter page also called "We are the 45%" (@macca1877) with 1,800 followers ( as opposed to 4,300 for the official page) is sowing discord after posting hateful tweets such as "the 55% betrayed their own people," and "Hope those of the 55 with a conscience are waking up this morning feeling shit about themselves." This refers to Chancellor of the Exchequer George Osborne's statements where he declared wanting to toughen UK austerity measures. Should this desire to divide the virtuous 45% and the treacherous 55% raise concerns about a disillusioned future ? Most Scots are actually accustomed to these extreme but uncommon statements and are no more concerned than usual. A student interviewed for the newspaper commented, "There have always been extreme people. And many of them seriously harm us."
Facing a bitterness that could lead to resentment, unionists are obviously calling for a democratic argument. Murdo Fraser, conservative Deputy for the Scottish Parliament and supporter of the 'No' vote declared, "This 45% nonsense is all a bit sad. The people of Scotland have spoken. You may not like what they said, but give it a rest. Please." Gordon Brown, former Prime Minister, leader of the Labour Party, and a Scot himself, also wishes to calm the situation by arguing, "There is a time to fight and there is a time to unite." This is an idea Gerry Hassan, a distinguished Scottish scholar, summarized well : "Instead of going on abt #the45 more imp to understand motivations of #the55. And emphasise we are #onescotland & #the100."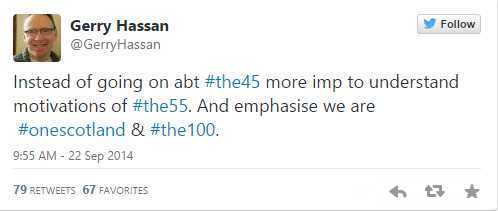 Credit DR
Moving towards a second referendum ?
On September 27, the 45% called together 3,000 people, including the Proclaimers twins and Vivienne Westwood, to gather in front of Holyrood, the Scottish Parliament. Their goal ? To show that the 'Yes' campaign is far from over by campaigning for a second vote. These kinds of initiatives are popping up all over the country. Last week, the 'Yes' side called for donations to food banks after budget cuts were announced. At Glasgow's emblematic George Square, an important site for independence protests, residents gathered and covered the whole area in plastic bags within a few hours. Sent out via social media, the event was spontaneously reproduced in several Scottish cities.
Credit DR
"It's not over. The dream will never die as long as we have gatherings like this," was the headline of a September 28 editorial in the Herald Scotland. Could Scotland already be heading towards a new referendum ? A petition for a second vote was started on September 19 and has already gathered more than 93,000 signatures. But people are tired and even SNP leaders have chosen to put a damper on the debate. According to Nicola Sturgeon, likely to become First Minister of Scotland, an immediate vote is non-contentious : "People don't dictate when you have a referendum, circumstances do." The 45% will likely fail to obtain a second referendum for now. But David Cameron's blatant intentions to leave the European Union, as well as the disturbing rise of the UK Independence Party in the elections, could very well be the circumstances that give the Scottish people a second chance to express themselves. When it comes to independence, as in general, everything comes to those who wait.