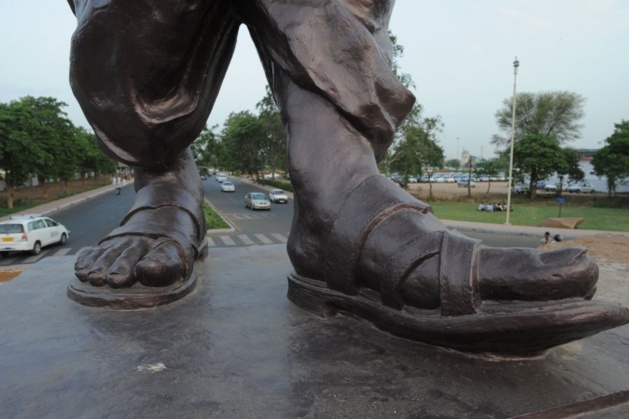 Credits -- AFP
Known as the 'Statue of Unity', this giant would stand 3.2 kilometres (2 miles) away on the island called Sadhu Bet of Narmada River. Though this project was announced back in October 2010, the foundation stone for this project was laid by BJP's Prime Ministerial candidate and Gujarat's Chief Minister Narendra Modi on October 31, 2013. This date happens to be 123rd birth Anniversary of Patel.

The base of the statue alone would stand 56 meters in height while the statue itself would be further 182 meters tall. The statue is planned to be constructed with steel framing reinforced with concrete and coated with bronze. The group Turner Construction who were consultants for the world's tallest building, Burj Kalifa, would monitor this project. Apart from the statue, a memorial, hotel, convention center, amusement parks, research centers and institutes would also be constructed at a total cost of Rs 2063 crores ( nearly 270 million euros). The project is estimated to be completed in 56 months.

World's tallest
Apart from the Patel's statue which is to be constructed in little over four years, there are a few statues that come close to this height. The statue of Buddha in Spring Temple, China stands at 153 meters and this happens to be the only statue to have breached 100 meters in height. Following that is the Statue of Liberty in New York, United States of America. Trailing which would be the statue of 'Motherland Calls' in Russia at 85 meters. The list of five tallest statues ends with the statue of Christ the Redeemer in Rio de Janeiro, Brazil at a height of 39.6 meters.
The Iron Man of India
Vallabhbhai Patel is commonly known as the 'Iron Man of India'. He was the first Home Minister under the first democratically elected government after gaining independence from British rule. He was also a freedom fighter and one of the founding fathers of Independent India. He was also anointed as the Deputy Prime Minister of India under the then Prime Minister Pt. Jawaharlal Nehru. Patel was a native of Gujarat. He is known to have championed the cause of all religion and parts of the society, leaving the politicians to idolize him as a secular leader.

Sardar Patel played a pioneering role in carving out the states in India prior to which the country comprised of 625 princely states. When many smaller showed reluctance in joining the Union of India, Sardar Patel reassured them of the Congress' intentions and ensured that "the state would not establish a relationship of domination over the princely states." Later in 1956, according to the States Reorganization Act, the states were carved out on the basis of language.
The statue and current politics
While inaugurating a museum dedicated to Sardar Vallabhbhai Patel, the two ends of the pole, Prime Minister Manmohan Singh and Narendra Modi, a leader of the principle opposition, shared the dais. Prime Minister Manmohan Singh proudly claimed Patel to be secular and that he belonged to Congress party. In response to that Narendra Modi took a jab at the Congress and said,
"Patel's Secularism did not Eye vote bank"
. Modi also noted that Sardar Patel would have made a better Prime Minister than Jawaharlal Nehru apart from claiming that Patel's secularism did not come in the way of building Somnath Temple. Modi hailed Patel's secularism to unite people. Such statements from Narendra Modi irked a series of responses from Congress. Union Minister Naranaswamy blamed Modi for playing
"cheap politics"
and branded BJP as a
"half-baked party"
.
This back and forth mudslinging has occupied quite some space in most dailies in India and has kept the media busy in looking out for reactions and counter reactions from the political fraternity. Though political parties have attempted to gain political mileage keeping in mind, the elections coming up in a few states including the capital, they also have a long term ambition of 2014 general elections. It can be noted as one of their attempts to appease the general public with the secular card. Politicians must abstain from such mudslinging on the backdrop of such a historical moment.
Lire cet article en français