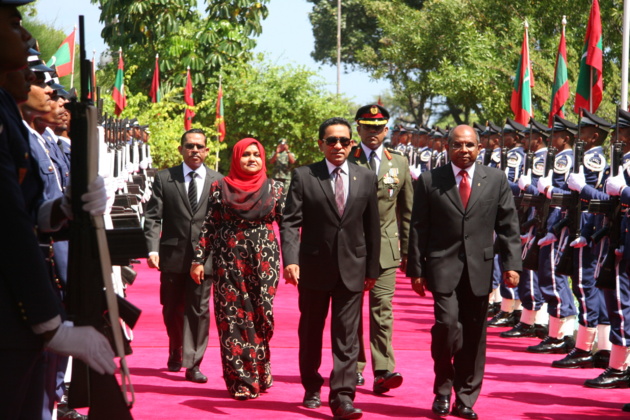 DR
In order to be elected president of Maldives, a candidate has to win at least 50% plus 1 vote. Since the first round of elections held on September 7 was annulled by the Supreme Court another run-off was held on November 9. However, this election failed to yield a clear winner, since the candidate with highest vote share, Mohammed Nasheed only reached 47%, short of the required number of votes to be elected.

There was a constitutional mandate for the new president to be installed before November 11, but with Abdullah Yameen appealing for more time to campaign, the Supreme Court postponed the election by five days. The result witnessed the voters' sentiments turn around. Mohammad Nasheed lost more than five percent of his previous vote share while Abdullah Yameen gained substantially to close the race with a close margin of 51.3%.

Democracy or dictatorship
The incumbent president Mohammad Waheed Hassan left to Singapore with his wife before the results were announced. "I do not think there is much I can do from here, things I cannot do over phone", he was quoted by Al Jazeera. Mohammad Nasheed, in 2008, was the first democratically elected President of Maldives but left office in what he says was a coup d'Etat.

A 48 year old voter Fareesha Abdullah said, "Today is absolutely critical for democracy and the future of our country. It will determine whether we become a democracy or a dictatorship". Maumoon Abdul Gayoom is known to have served the longest term as the President of Maldives. He served for 30 years from 1978-2008. He was nominated President by the previous President Ibrahim Nasir. Later Gayoom mooted the idea of direct presidential election which was approved by a public referendum in 2007.

Relations with India
Maldives maintains a friendly relationship with India. During Gayoom's rule there were several attempts to overthrow him in a
coup d'Etat
. However, the 1988 attempt grabbed the attention of several nations. Gayoom sought India's help in overthrowing the attempted
coup
. The then Prime Minister of India, Rajiv Gandhi immediately dispatched 1600 troops to Male. The
coup
was orchestrated by a group led by Abdullah Luthufi. This was aided by PLOTE (People's Liberation Organization of Tamil Eelam) a former Tamil militant group in Sri Lanka which is now a pro-government para-military group and political party. The mercenaries managed to take control of several government offices and airports, but failed to capture Gayoom.
Earlier in February this month, Mohammad Nasheed hit the headlines after seeking refuge at the Indian High Commission in Male. He was issued an arrest warrant by a court with respect to a case which accused him of misusing powers during his term as the President. After nearly 10 days of drama, Nasheed left the Indian High Commission after the intervention of Indian authorities in working out a 'deal'. The details of the arrangement, however, were not made public.
An Indian infrastructure firm, GMR, was also on the news when Maldives cancelled the contract awarded to the former for developing Ibrahim Nasir International airport. This issue popped up in December 2012 when the firm was given a seven days' notice to
'leave the country'
. The opposition which took charge after Nasheed resigned claimed that the agreement was 'voids an initio'. GMR claimed this decision to be a political event. Sidelining this incident, in June 2013 GMR filed a claim for $1.4 billion as compensation for this 'illegal' termination of contract.
Despite several dramatic set of events by the judiciary of Maldives, the country has finally elected a leader of its own. Now the stage has been set for democratic governance with focus on fostering friendly relations with neighboring countries.
Lire cet article en français