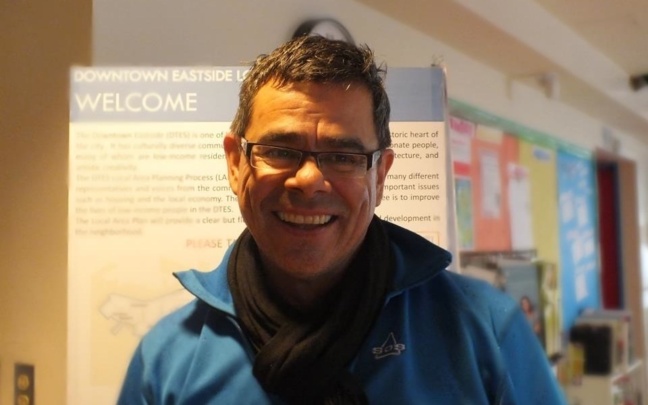 Scott Clark, the executive director of ALIVE's organisation in Vancouver (Crédits photo — Elisa Juszczak)
What has brought you to political engagement?
In 1995, despite the disagreement of locals, a casino construction project had been submitted for Beecher Bay reserve (Vancouver Island). As I was born and had been raised there, I became the spokesperson of its inhabitants. I had to work with the United Native Nations so they could assist us. After this event, I kept working with this organisation with who I became the vice-president and president. I resigned in 2002 for personal reasons. Then, in 2010, I joined ALIVE (Aboriginal Life in Vancouver Enhancement) for whom I am now the executive director.

Can you tell me more about the current situation of Firsts Nations in Canada?
If I tell you that most of them are vulnerable persons with low income I won't teach you anything. However, we all have to keep in mind that 80% of Firsts Nations live off-reserve, which is why it is important to act especially in cities if we want to enhance their living conditions. Sometimes, tragic events that depict distress and despair are passed over in silence and do not generate any change. This is the case of the suicide of thirty FN teenagers in Vancouver.

However, the Canadian government has to provide them some help and gives social rights. And according to the Indian Act, he has to consult Firsts Nations groups before taking some political decisions.
Of course. But you have to understand that the term Firsts Nations has been created by the colonial system itself, in 1876, via The Indian Act. This official status was a way to divide indigenous populations. In British Columbia, there are 28 Indian languages that correspond to 28 distinct indigenous groups. By creating the Indian Act, settlers divided these 28 groups in 203 Firsts Nations groups and 1800 reserves. Basically, this Act contributed to a wider segregation of indigenous people. Moreover, it allows the government to negotiate with someone with whom they previously built the status. Such segregation cannot lead to something positive in communities and societies.


How does ALIVE contribute to enhance Firsts Nations' living conditions and rights in Vancouver?
ALIVE's main goal, with more than eighty others independent organisations, is to create bounds between social services, economic agencies, government and populations. But these links have to be drawn on a local level, which corresponds to one of the Rio Earth Summit's paradigms (1992): place-based strategy, or glocalisation. A place-based strategy implies to think globally, but to act locally, regarding the different situations an organisation faces. This contributes as well to the creation or maintenance of communities in Vancouver. Each community is associated to a community centre and to a specific area of the city. Nowadays, 24 community centres exist in Vancouver.

More specifically, what are the means chosen to achieve this goal?
It's very simple: education, information, dialogue. My job is to meet social and economic agencies and to tell them about First Nations' lived realities in urban areas. Then, we gather and try to create sustainable solutions. For instance, every Thursday morning, I have a meeting about youth health at school. Also, ALIVE doesn't have a proper and official office. We work in community centres, a place where people in difficulties can come and meet us.

Do you have more examples?
Yes! Some people with children have social issues and can't find a job. Hence, they can't afford their rent and face eviction. Finding this sad situation, ALIVE and its partners created a bank where people can make a loan that they'll repay later. This solution avoids family breakdowns and putting vulnerable people out in the street.

Provincial elections are coming soon (14th of May). Does ALIVE plan to take action?
Once again, yes. One of the other main goals of ALIVE is to raise citizenship awareness and to encourage political involvement of everybody in their community. For the last provincial elections, less than 50% of the population went to vote. That's why this year, we are organizing five public debates in community centres in order to educate and sensitise people to their duties as citizens.

What about the election results?
I think and I hope that the NDP will be elected! In British Columbia, their leader is Adrian Dix. It will be interested and probably easy for us to build a dialogue with him!