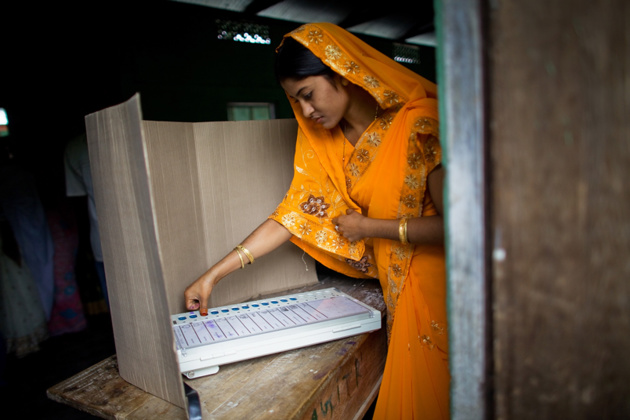 Credits -- Getty
The bench of judges headed by Chief Justice of India, P. Sathasivam said, "the provision for negative vote would send clear signals to political parties and their candidates as to what the electorate thought about them." This order by the Supreme Court now mandates the Election Commission to include an option of "None Of The Above (NOTA)" at the end of list of candidates in the voting machine. In India, most of the elections are conducted using EVMs (Electronic Voting Machines).
Present system
The current electoral system in India, does not offer citizens the right to cast a negative or a neutral vote. However, they can choose to abstain from voting by filling a form 17-A under Rule 49-O. Though this rule spread like a wildfire among young voters in the previous Lok Sabha elections, there were not many takers. This rule requires the elector to approach the officer in the polling booth and request for a form 17-A. This, according to the Supreme Court violates the aspect of secrecy of voters in elections which is very vital in a democracy. "Whether a voter decides to cast his vote or not, in both cases, secrecy has to be maintained", said the bench.
Election Commission welcomes
The Election Commission welcomed this order of the Supreme Court and agreed that the 49-O did not ensure secrecy to voters. An official, as quoted in The Hindu, said, "It is a delicate thing to implement this SC verdict. The very purpose of constituting the Election Commission is to hold polls and encourage voters to come and vote in large numbers as part of democracy. So if we do vigorous campaign for NOTA, the purpose will get defeated and then the poll bodies might give an impression that they ask voters not to vote. At the same time we cannot remain silent by not highlighting availability of NOTA option."
Reactions from political fraternity
The reactions from political parties were mixed. Narendra Modi, the recently anointed Prime Ministerial candidate from BJP claimed this rule "will make parties more responsible". Though there was no official statement from BJP, Mr. Modi voiced his views through his blog. The ruling Congress did not make any comment, instead they were cautious in saying they would react after reading the rules and verdict by SC. The Left parties on the other hand said, this was a "minor step to electoral reforms".

They also said debates pertaining to electoral reforms must be done in the Parliament. Mr. Modi while hailing this verdict pointed out to one such similar reform he had proposed in his state. He maintained that his government attempted to bring in legislation for right to no vote and compulsory voting, but the Governor of Gujarat did not give assent to it though the State Assembly cleared it. In India, a piece of legislation becomes a law only if the Governor or the President gives assent to it in the state and national level respectively.
Public reacts
The reaction from public was largely positive towards this judgment. Prof. V N Pal, a Mathematics professor who has been advocating electoral reforms for many years, welcomed this judgment. Prof Pal was one of the petitioners who had filed a PIL (Public Interest Litigation) in 2004 for NOTA.
"A great judgment and I personally welcome the decision, for which I have waited for nine years. I also feel that it's one of the best moves to protect democracy and citizens' rights. For sure it will clean Indian polity by discarding corrupt and mischievous elements"
, he said to The Times of India. Prof Pal also further said,
"In the petition I had also contended that candidates securing lesser votes than the NOTA must be banned from contesting elections in the future. Also, if all candidates are rejected by a majority NOTA votes, the elections should be declared null, void and fresh elections must be called for. Besides this, the rejected candidates must not be allowed to contest in the next round of elections."
Daily News Analysis in one of their articles claimed that hardly anyone would want to go and stand in the scorching heat to press the "NOTA" option. It also claimed that people are very lazy to exercise their voting rights. According to this article the electoral process would be in shambles and would have several ill-effects, as election which is meant to elect people would be misused to not elect anyone. Their article said the judgment by apex court would not make much difference despite their intent to provide electors with a wide choice.
Though there have been mixed reactions to this decision, this is the first step in ensuring clean and fair elections expressing the will of the voter. The process of electoral reforms in India has begun. It must be made sure that it progresses along its path.
Lire cet article en français